BOOK FORMAT
Paperback, 7 x 9.5 in. / 184 pgs / 71color.
PUBLISHING STATUS
Pub Date 3/1/2007
Out of stock indefinitely
DISTRIBUTION
D.A.P. Exclusive
Catalog: SPRING 2007 p. 136
PRODUCT DETAILS
ISBN 9783938821725 TRADE
List Price: $30.00 CDN $40.00
AVAILABILITY
Not available
TERRITORY
NA LA ASIA AU/NZ AFR ME
THE FALL 2023 ARTBOOK | D.A.P. CATALOG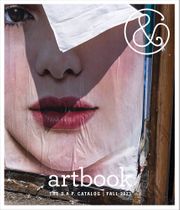 Preview our Fall 2023 catalog, featuring more than 500 new books on art, photography, design, architecture, film, music and visual culture.
&nbsp
&nbsp
Joseph Beuys: In the Mu Mok Collection

Text by Wolfgang Dreschsler, Doris Leutgeb.


This sampler explores three Joseph Beuys works in three media: the collection of drawings, Kölner Mappe or Cologne Portfolio; the sculptural object "Tür," or "Door;" and an environment, "Basisraum Nasse Wäsche," literally "Basic Room Wet Laundry." The Cologne Portfolio is an unusually broad, privately assembled group of 64 Beuys drawings made between 1945 and 1973, put together by a Cologne collector and later brought to Vienna's Museum of Modern Art. "Tür," 1954-56, is a burnt door to which Beuys applied a heron's skull and a rabbit pelt. The installation piece, "Basisraum Nasse Wäsche," was created in 1979 for two Viennese exhibitions, and has traveled to several venues over the years. Photo documentation of its various presentations shows how very much each exhibition space has impacted this important Beuys environment.


STATUS: Out of stock indefinitely.

DIA ART FOUNDATION

ISBN: 9780944521342
USD $60.00

| CAN $79

UK &pound 53

Pub Date: 5/2/1999
Active | In stock




D.A.P./RINGLING MUSEUM

ISBN: 9781891024030
USD $35.00

| CAN $40

Pub Date: 11/2/2001
Out of print | Not available




STEIDL

ISBN: 9783969990988
USD $175.00

| CAN $247

Pub Date: 11/8/2022
Active | In stock




WALTHER KöNIG, KöLN

ISBN: 9783753302591
USD $120.00

| CAN $168

Pub Date: 4/11/2023
Active | In stock




HATJE CANTZ

ISBN: 9783775750387
USD $44.00

| CAN $60

Pub Date: 9/7/2021
Active | In stock




KERBER

ISBN: 9783735607690
USD $59.95

| CAN $79.95

Pub Date: 9/7/2021
Active | In stock




STEIDL/EDITION STAECK, HEIDELBERG

ISBN: 9783958299610
USD $40.00

| CAN $54.5

Pub Date: 9/28/2021
Active | In stock




STEIDL

ISBN: 9783958299146
USD $45.00

| CAN $62

Pub Date: 6/28/2022
Active | In stock




STEIDL

ISBN: 9783958299177
USD $45.00

| CAN $63

Pub Date: 6/28/2022
Active | In stock




STEIDL

ISBN: 9783958299009
USD $65.00

| CAN $88

Pub Date: 6/28/2022
Active | In stock




HATJE CANTZ

ISBN: 9783775748667
USD $55.00

| CAN $77

Pub Date: 8/31/2021
Active | In stock




STEIDL

ISBN: 9783958299139
USD $45.00

| CAN $63

Pub Date: 6/28/2022
Active | In stock




STEIDL

ISBN: 9783958299153
USD $45.00

| CAN $63

Pub Date: 6/28/2022
Active | In stock




GALERIE THADDAEUS ROPAC

ISBN: 9780995745650
USD $55.00

| CAN $75

Pub Date: 8/20/2019
Active | In stock




WALTHER KöNIG, KöLN

ISBN: 9783960982647
USD $45.00

| CAN $60

Pub Date: 2/27/2018
Active | In stock




KERBER

ISBN: 9783735602398
USD $39.95

| CAN $53.95

Pub Date: 9/27/2016
Active | Out of stock




STEIDL PHOTOGRAPHY INTERNATIONAL

ISBN: 9783865219145
USD $50.00

| CAN $67.5

Pub Date: 2/28/2010
Active | In stock




DIA ART FOUNDATION

ISBN: 9780944521342
USD $60.00

| CAN $79

UK &pound 53

Pub Date: 5/2/1999
Active | In stock