BOOK FORMAT
Clothbound, 8.5 x 12 in. / 432 pgs / 416 color.
PUBLISHING STATUS
Pub Date 7/1/2007
Out of stock indefinitely
DISTRIBUTION
D.A.P. Exclusive
Catalog: FALL 2007
PRODUCT DETAILS
ISBN 9783865601322 TRADE
List Price: $75.00 CDN $99.00
AVAILABILITY
Not available
TERRITORY
NA LA ASIA AFR
EXHIBITION SCHEDULE
Washington, D.C.
Hirshhorn Museum, 05/10/07-08/12/07
THE FALL 2023 ARTBOOK | D.A.P. CATALOG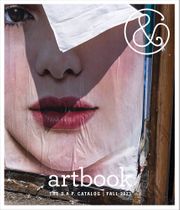 Preview our Fall 2023 catalog, featuring more than 500 new books on art, photography, design, architecture, film, music and visual culture.
&nbsp
&nbsp
Wolfgang Tillmans: Manual

Edited by Wolfgang Tillmans.


At just over 430 pages, this monumental and beautifully designed new monograph presents the most comprehensive view of the London-based photographer Wolfgang Tillmans' work to date, featuring many photographic works and abstract "paintings" from the past five years that have never been published before.
When he is working on an exhibition or a publication, Tillmans displays and combines pictures on long tables in his studio so that the images are "held in position only by their own weight. The method of laying out two-dimensional objects on a table produces 'clarity' and allows perspective. A new text emerges through the combination of intrinsically different pieces of paper. The issues dealt with on these tables do not claim to be fully comprehensive and the items chosen do not profess to be definitive examples of their kind. Rather, this multivocal process allows me to amplify voices I feel need strengthening, contrasting them with their opposites and their neighbors." This method has become a concept. In Manual the artist combines his own photographs, painterly works and texts together with already existing newspaper articles to create an associative, comprehensive view. The material is condensed into a complex artistic dialogue with various social and political themes, like AIDS or the question of absolute truth, which the artist has been exploring for years.


STATUS: Out of stock indefinitely.

HATJE CANTZ

ISBN: 9783775710848
USD $45.00

| CAN $55

Pub Date: 11/2/2001
Out of print | Not available




D.A.P./DISTRIBUTED ART PUBLISHERS

ISBN: 9781891024368
USD $39.95

| CAN $50

Pub Date: 12/2/2001
Out of print | Not available




THE MUSEUM OF MODERN ART, NEW YORK

ISBN: 9781633451117
USD $75.00

| CAN $102

Pub Date: 8/30/2022
Active | In stock




WALTHER KöNIG, KöLN

ISBN: 9783753301372
USD $55.00

| CAN $75

Pub Date: 6/7/2022
Active | In stock




THE MUSEUM OF MODERN ART, NEW YORK

ISBN: 9781633451124
USD $45.00

| CAN $60

Pub Date: 2/8/2022
Active | Out of stock




WALTHER KöNIG, KöLN

ISBN: 9783960989523
USD $59.95

| CAN $81.95

Pub Date: 7/20/2021
Active | In stock




WALTHER KöNIG, KöLN

ISBN: 9783960987543
USD $39.95

| CAN $55.95

Pub Date: 4/14/2020
Active | Out of stock




WALTHER KöNIG, KöLN

ISBN: 9783960981671
USD $30.00

| CAN $40

Pub Date: 9/26/2017
Active | Out of stock




WALTHER KöNIG, KöLN

ISBN: 9783863359416
USD $29.95

| CAN $39.95

Pub Date: 9/27/2016
Active | Out of stock




WALTHER KöNIG, KöLN

ISBN: 9783863358228
USD $65.00

| CAN $87

Pub Date: 1/26/2016
Active | In stock




WALTHER KöNIG, KöLN

ISBN: 9783863357528
USD $30.00

| CAN $40

Pub Date: 9/29/2015
Active | Out of stock