BOOK FORMAT
Clth, 9.5 x 12 in. / 320 pgs / 400 color.
PUBLISHING STATUS
Pub Date 8/30/2022
Active
DISTRIBUTION
D.A.P. Exclusive
Catalog: SPRING 2022 p. 15
PRODUCT DETAILS
ISBN 9781633451117 TRADE
List Price: $75.00 CDN $102.00
AVAILABILITY
In stock
TERRITORY
NA ONLY
EXHIBITION SCHEDULE
New York, NY
The Museum of Modern Art, 09/12/22–12/31/22

Toronto, Canada
Art Gallery of Ontario, 04/15/23–09/20/23

San Francisco, CA
San Francisco Museum of Modern Art, 11/23–02/24
THE FALL 2023 ARTBOOK | D.A.P. CATALOG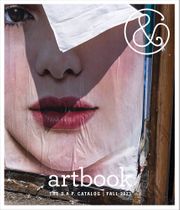 Preview our Fall 2023 catalog, featuring more than 500 new books on art, photography, design, architecture, film, music and visual culture.
&nbsp
&nbsp
Wolfgang Tillmans: To look without fear

Edited with text by Roxana Marcoci. Text by Quentin Bajac, Yve-Alain Bois, Julia Bryan-Wilson, Clément Chéroux, Durga Chew-Bose, Stuart Comer, Keller Easterling, Paul Flynn, Sophie Hackett, Michelle Kuo, Oluremi C. Onabanjo, Phil Taylor, Wolfgang Tillmans. Chronology by Phil Taylor, Andrew Vielkind.


Encompassing photography, installation, print media, video and more, this publication is the most comprehensive account of Tillmans' wide-ranging career to date

A visionary creator and intrepid polymath, Wolfgang Tillmans unites formal inventiveness with an ethical orientation that attends to the most pressing issues of life today. While his work transcends the bounds of any single artistic discipline, he is best known for his wide-ranging photographic output. From trenchant documents of social movements to windowsill still lifes, ecstatic images of nightlife to cameraless abstractions, sensitive portraits to architectural studies, astronomical phenomena to intimate nudes, he has explored seemingly every genre of photography imaginable, continually experimenting with how to make new pictures and deepen the viewer's experience.
Published in conjunction with a major exhibition of Tillmans' work at the Museum of Modern Art, this copiously illustrated volume surveys four decades of the artist's career. An outstanding group of writers offer diverse essays addressing key threads of his multifaceted practice, and a new text by Tillmans himself elucidates the distinctive methodology behind his system of presenting photographs. Wolfgang Tillmans: To look without fear grants readers new insight into the work of an artist who has not only changed the way photography is exhibited but pointed contemporary art in dynamic new directions.
Wolfgang Tillmans (born 1968) is among the most influential contemporary artists, and the impact of his work registers across the arts, intersecting with fashion, music, architecture, the performing arts and activism. Tillmans is the recipient of the Turner Prize (2000) and the Hasselblad Foundation International Award in Photography (2015). His foundation, Between Bridges, supports the advancement of democracy, international understanding, the arts and LGBTQ rights.




"Frank, in the shower" (2015) is reproduced from 'Wolfgang Tillmans: To look without fear'.

PRAISE AND REVIEWS

New York Times: Arts

Matthew Anderson

Whereas his early pictures invited the viewer into his personal world of sexual liberation, borderless travel and joyful togetherness, in more recent works, and in his increasing engagement as a political campaigner, he has argued that those freedoms are fragile, and based on wins that, if not safeguarded, can be lost.

New York Times: Arts

Jason Farago

Candid, unaffected, breezily intelligent; moralistic, too, in the later galleries. It is required viewing for both photography scholars and sportswear fetishists, and a worthy retrospective of one of the most significant artists to emerge at the end of the last century.

Aperture

Evan Moffitt

"To look without fear" perhaps means to look without worrying about what will be reflected back at you. It's a form of viewership whose root desire is to engage. This democratic vision of photography can be seen equally in the ways Tillmans gathers text and images together and the ways that bodies commune within them. His work has room enough for us all.

L'Officiel

Jennifer Sauer

These select moments tell stories beyond what we see, they are moments that touch the human spirit. In tender and vulnerable images, the artist speaks to beauty, awareness, and the collective human experience itself.

New York Magazine: Vulture

Jerry Saltz

Over the course of his 36-year career, the photographer Wolfgang Tillmans has created what I think of as a new sublime. His work conveys that the bigness of it all is no longer in God, the ceilings of the Renaissance, the grandeur of nature, or the allover fields of the Abstract Expressionists. Tillmans intuited that the sublime had shifted, had alighted on us.

Wall Street Journal

Richard B. Woodward

Mr. Tillmans has expanded the possibilities of documentary photography with a flair, and without a big budget, in ways that others are already imitating. Anyone curious to see where he has led us needs to visit "To Look Without Fear," and probably more than once.

Guardian

Amelia Abraham

The result across the show is a kind of Tillmans–esque spiritualism; interconnectivity, bodies arm in arm, astrological images that might prompt us to question the verge of earthly visibility, how small we are in the face of it all.

i-D

Nicholas Gamso

What he is trying to communicate is the play of appearance in our lives: the bounty of visions that sustains us, yet also gets in the way. The whole field of visual media becomes, in this interpretation, a space for reconstruction and critical resistance.

Washington Post

Sebastian Smee

Full of humor, compassion and surprise...His sense of beauty, fragility and singularity remains intact.

New Yorker

Emily Witt

His career is a lifelong inquiry into what gives an image meaning, including formalist experiments made without a camera. Amid a cultural outpouring of trolling, bad-faith posturing, disinformation, and edgelord provocation, Tillmans's sincerity has not wavered.

Artforum

Alex Kitnick

Tillmans has been able to thread the needle through an increasingly vast network of image production, and its sites of display, in order to create a new kind of image—a moving image not simply in the affective sense, but in the circulatory one, too. His images get around, change shape. They are promiscuous. We can call them images in motion.

Free Shipping

UPS GROUND IN THE CONTINENTAL U.S.
FOR CONSUMER ONLINE ORDERS

THE MUSEUM OF MODERN ART, NEW YORK

ISBN: 9781633451117
USD $75.00

| CAN $102

Pub Date: 8/30/2022
Active | In stock




WALTHER KöNIG, KöLN

ISBN: 9783753301372
USD $55.00

| CAN $75

Pub Date: 6/7/2022
Active | In stock




THE MUSEUM OF MODERN ART, NEW YORK

ISBN: 9781633451124
USD $45.00

| CAN $60

Pub Date: 2/8/2022
Active | Out of stock




WALTHER KöNIG, KöLN

ISBN: 9783960989523
USD $59.95

| CAN $81.95

Pub Date: 7/20/2021
Active | In stock




WALTHER KöNIG, KöLN

ISBN: 9783960987543
USD $39.95

| CAN $55.95

Pub Date: 4/14/2020
Active | Out of stock




WALTHER KöNIG, KöLN

ISBN: 9783960981671
USD $30.00

| CAN $40

Pub Date: 9/26/2017
Active | Out of stock




WALTHER KöNIG, KöLN

ISBN: 9783863359416
USD $29.95

| CAN $39.95

Pub Date: 9/27/2016
Active | Out of stock




WALTHER KöNIG, KöLN

ISBN: 9783863358228
USD $65.00

| CAN $87

Pub Date: 1/26/2016
Active | In stock




WALTHER KöNIG, KöLN

ISBN: 9783863357528
USD $30.00

| CAN $40

Pub Date: 9/29/2015
Active | Out of stock