BOOK FORMAT
Flexi, 5.75 x 8.25 in. / 120 pgs/ illustrated throughout.
PUBLISHING STATUS
Pub Date 11/1/2007
Out of stock indefinitely
DISTRIBUTION
D.A.P. Exclusive
Catalog: FALL 2007 p. 40
PRODUCT DETAILS
ISBN 9780978972288 TRADE
List Price: $18.00 CDN $25.50
AVAILABILITY
Not available
TERRITORY
NA LA EUR ASIA AU/NZ AFR ME
EXHIBITION SCHEDULE
Hollywood
New Image Art, 11/01/07
THE FALL 2023 ARTBOOK | D.A.P. CATALOG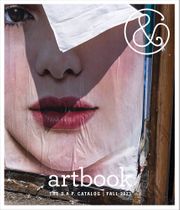 Preview our Fall 2023 catalog, featuring more than 500 new books on art, photography, design, architecture, film, music and visual culture.
&nbsp
&nbsp
C.F.: Powr Mastrs Vol. 1




According to The Comics Reporter, "If a reader were to pick up on any one cartoonist working at a furious and considered and accomplished pace right below the radar of most comics fans, C.F. might be the best choice." This first book by C.F. (also known in the East Coast underground music scene as Kites) is perhaps the most anticipated graphic novel debut of the year. Coming out of the fabled Providence, Rhode Island, art and noise scene, Powr Mastrs is an intense fantasy story projected to run to 10 volumes. In it, C.F. narrates the story of a tribe of mystical warriors whose power relations are constantly in flux. As power shifts, so do physical and psychological identities. In this first volume, we are introduced to the central characters and the complex geographies in which they wander. Overflowing with graphic ideas, from the intricately designed costumes each character wears to C.F.'s exacting architectural detail, Powr Mastrs is rendered in a distinctive pencil line that has already attracted much attention in sources like the groundbreaking comics anthology, Kramers Ergot.


STATUS: Out of stock indefinitely.

OF RELATED INTEREST

PICTUREBOX

ISBN: 9780971367043
USD $29.95

| CAN $35

Pub Date: 10/15/2005
Out of print | Not available




HATJE CANTZ

ISBN: 9783775755702
USD $50.00

| CAN $73

Pub Date: 11/21/2023
Forthcoming




REDSTONE PRESS

ISBN: 9781739597627
USD $25.00

| CAN $36

UK &pound 25

Pub Date: 8/8/2023
Active | In stock




WENDY'S SUBWAY/CARPENTER CENTER FOR THE VISUAL ARTS AT HARVARD UNIVERSITY/INSTIT

ISBN: 9798986337524
USD $18.00

| CAN $26

Pub Date: 8/8/2023
Active | In stock




NATIONAL PORTRAIT GALLERY

ISBN: 9781855145771
USD $29.95

| CAN $42.95

Pub Date: 5/23/2023
Active | In stock




VERLAG FüR MODERNE KUNST

ISBN: 9783903439702
USD $14.95

| CAN $19.95

Pub Date: 3/21/2023
Active | In stock




SKIRA

ISBN: 9788857248738
USD $9.00

| CAN $13

Pub Date: 4/25/2023
Active | In stock




REDSTONE PRESS

ISBN: 9781739597603
USD $24.95

| CAN $34.95

Pub Date: 6/13/2023
Active | In stock




FUEL PUBLISHING

ISBN: 9781739887803
USD $55.00

| CAN $77

Pub Date: 5/30/2023
Active | In stock




THE DESIGN MUSEUM

ISBN: 9781872005614
USD $45.00

| CAN $63

Pub Date: 8/23/2022
Active | Out of stock




JBE BOOKS

ISBN: 9782365680615
USD $49.95

| CAN $67.95

Pub Date: 4/12/2022
Active | In stock




REDSTONE PRESS

ISBN: 9780995518193
USD $24.95

| CAN $33.95

Pub Date: 6/7/2022
Active | Out of stock




REDSTONE PRESS

ISBN: 9780995518186
USD $24.95

| CAN $33.95

UK &pound 19.99

Pub Date: 3/15/2022
Active | In stock