BOOK FORMAT
Paperback, 5.5 x 8.25 in. / 368 pgs.
PUBLISHING STATUS
Pub Date 10/2/2003
Out of print
DISTRIBUTION
D.A.P. Exclusive
Catalog: FALL 2003
PRODUCT DETAILS
ISBN 9780878466535 TRADE
List Price: $22.50 CDN $25.00
AVAILABILITY
Not available
TERRITORY
WORLD
THE FALL 2023 ARTBOOK | D.A.P. CATALOG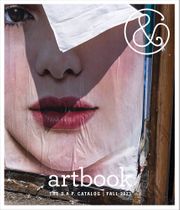 Preview our Fall 2023 catalog, featuring more than 500 new books on art, photography, design, architecture, film, music and visual culture.
&nbsp
&nbsp
Julien Levy: Memoir Of An Art Gallery

Introduction by Ingrid Schaffner.


Julien Levy opened his New York gallery in 1931, and the following year assembled the first Surrealist show ever held in that city. Over the next two decades he exhibited works by Dalí, Ernst, Joseph Cornell, Calder, Eugene Berman, Tchelitchew, Giacometti, Arshile Gorky and many other luminaries of twentieth-century art, giving a number of them their first shows. But Levy was more than a gifted dealer: he also had a gift for friendship, and in this charming, anecdotal memoir he recounts his intimate dealings with some of the most innovative figures of his generation. He crossed the Atlantic with Duchamp and introduced Tanguy to New York. He conceived the idea for Dalí's Birth of Venus pavilion at the World's Fair, shared a summer house with Ernst and fished with André Breton (yielding a memorable description of the Surrealist leader's run-in with a blowfish). And he was with Gorky in the final, tragic days before the painter's suicide. Memoir of an Art Gallery is the story of prescient vision and lifelong devotion. By turns humorous and moving, and back in print after many years, it is also one of the most enjoyable works ever written about the pivotal time when Manhattan became the art capital of the world. This edition features a new introduction by Ingrid Schaffner, senior curator at the Institute of Contemporary Art in Philadelphia.


MFA PUBLICATIONS, MUSEUM OF FINE ARTS, BOSTON

ISBN: 9780878467020
USD $27.50

| CAN $37.5

UK &pound 24.5

Pub Date: 7/1/2006
Out of stock indefinitely | Not available




MFA PUBLICATIONS, MUSEUM OF FINE ARTS, BOSTON

ISBN: 9780878467006
USD $22.50

| CAN $25

UK &pound 20

Pub Date: 11/15/2005
Out of print | Not available




MFA PUBLICATIONS, MUSEUM OF FINE ARTS, BOSTON

ISBN: 9780878466658
USD $17.95

| CAN $20

Pub Date: 9/2/2003
Out of print | Not available




MFA PUBLICATIONS, MUSEUM OF FINE ARTS, BOSTON

ISBN: 9780878466283
USD $29.95

| CAN $39.95

UK &pound 27

Pub Date: 9/2/2002
Out of print | Not available




MFA PUBLICATIONS, MUSEUM OF FINE ARTS, BOSTON

ISBN: 9780878466276
USD $17.95

| CAN $25.5

UK &pound 15.99

Pub Date: 10/2/2001
Active | Out of stock




MFA PUBLICATIONS, MUSEUM OF FINE ARTS, BOSTON

ISBN: 9780878466535
USD $22.50

| CAN $25

Pub Date: 10/2/2003
Out of print | Not available




MFA PUBLICATIONS, MUSEUM OF FINE ARTS, BOSTON

ISBN: 9780878466528
USD $20.95

| CAN $25

Pub Date: 9/2/2003
Out of print | Not available




MFA PUBLICATIONS, MUSEUM OF FINE ARTS, BOSTON

ISBN: 9780878466542
USD $22.50

| CAN $25

Pub Date: 9/2/2003
Out of print | Not available




MFA PUBLICATIONS, MUSEUM OF FINE ARTS, BOSTON

ISBN: 9780878466481
USD $19.95

| CAN $25

Pub Date: 9/2/2002
Out of print | Not available




MFA PUBLICATIONS, MUSEUM OF FINE ARTS, BOSTON

ISBN: 9780878466320
USD $19.95

| CAN $25

Pub Date: 8/2/2001
Out of print | Not available




MFA PUBLICATIONS, MUSEUM OF FINE ARTS, BOSTON

ISBN: 9780878466269
USD $19.95

| CAN $25

Pub Date: 8/2/2001
Out of print | Not available




MFA PUBLICATIONS, MUSEUM OF FINE ARTS, BOSTON

ISBN: 9780878466498
USD $22.50

| CAN $25

Pub Date: 9/2/2002
Out of print | Not available




MFA PUBLICATIONS, MUSEUM OF FINE ARTS, BOSTON/ARTWORKS

ISBN: 9780878467433
USD $22.50

| CAN $31

UK &pound 20

Pub Date: 12/1/2008
Out of print | Not available




MFA PUBLICATIONS, MUSEUM OF FINE ARTS, BOSTON

ISBN: 9780878466849
USD $23.50

| CAN $25

Pub Date: 11/2/2004
Out of print | Not available




HATJE CANTZ

ISBN: 9783775755450
USD $34.95

| CAN $49.95

Pub Date: 9/5/2023
Active | In stock




HAUSER & WIRTH PUBLISHERS

ISBN: 9783906915753
USD $38.00

| CAN $53

Pub Date: 5/9/2023
Active | In stock




DELMONICO BOOKS/ART GALLERY OF ONTARIO

ISBN: 9781636810911
USD $39.95

| CAN $55.95

UK &pound 33.99

Pub Date: 2/28/2023
Active | In stock




KARMA BOOKS, NEW YORK

ISBN: 9781949172867
USD $35.00

| CAN $49

UK &pound 30

Pub Date: 5/16/2023
Active | In stock




RIDINGHOUSE

ISBN: 9781909932692
USD $40.00

| CAN $56

Pub Date: 9/13/2022
Active | Out of stock




RIDINGHOUSE/KUNSTMUSEUM DEN HAAG, THE HAGUE

ISBN: 9781909932517
USD $50.00

| CAN $65

Pub Date: 9/27/2022
Active | In stock




KAYA PRESS

ISBN: 9781885030825
USD $18.95

| CAN $25.95

UK &pound 15.95

Pub Date: 2/6/2024
Forthcoming




DELMONICO BOOKS/HAMMER MUSEUM

ISBN: 9781636810577
USD $45.00

| CAN $63

UK &pound 39

Pub Date: 11/8/2022
Active | In stock




DAMIANI

ISBN: 9788862087841
USD $70.00

| CAN $98

Pub Date: 11/8/2022
Active | In stock




HAUSER & WIRTH PUBLISHERS

ISBN: 9783906915401
USD $45.00

| CAN $61

Pub Date: 3/1/2022
Active | In stock




BLANK FORMS EDITIONS

ISBN: 9781953691040
USD $15.00

| CAN $20

Pub Date: 2/8/2022
Active | In stock




NATIONAL PORTRAIT GALLERY, LONDON

ISBN: 9781855147232
USD $24.95

| CAN $34.95

Pub Date: 11/2/2021
Active | In stock