MFA PUBLICATIONS
eBook Edition for Apple devices
The Performance Art of Marilyn Arsem
Edited by Liz Munsell, Edward Saywell.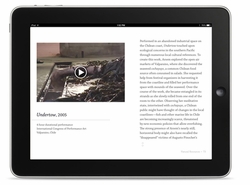 Marilyn Arsem has created over 180 works of performance art since 1975, and in the process she has helped to define the genre itself. This monograph on her life's work is among the first of its kind to embrace e-books' capacity to convey key aspects of durational, live art through multimedia. It grants access to rare videos and slideshows of her past performances, as well as to newly conducted audio interviews with the artist.

This enhanced e-book has been updated to include a chapter on the exhibition Marilyn Arsem: 100 Ways to Consider Time.