Pieter Hugo
Museum Exhibition Catalogues, Monographs, Artist's Projects, Curatorial Writings and Essays
MONOGRAPHS & CATALOGS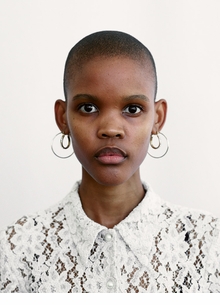 Pieter Hugo: Solus Volume I
RM
Portraits of uncommon beauty from the author of the acclaimed La Cucaracha
Pbk, 9.5 x 12.5 in. / 176 pgs / 98 color. | 3/1/2022 | In stock
$65.00
Pieter Hugo: Kin
APERTURE
Clth, 11.75 x 9.25 in. / 164 pgs / 80 color. | 2/24/2015 | Not Available
$75.00
Pieter Hugo: La Cucaracha
RM
Themes of mortality and ordinariness in modern-day Mexico
Hbk, 12.25 x 13.75 in. / 136 pgs / 56 color. | 4/14/2020 | Not available
$75.00
Concerning Atypical Beauty and Youth
Published by RM.

In Solus Volume I, South African photographer Pieter Hugo (born 1976) reflects on the values implied by the fashion industry's shifting aesthetics through portraits of street-cast models found in diverse locations such as London, Paris, New York and South Africa. Hugo found himself captivated by sitters with unconventional and atypical looks, particularly before they underwent the machinations of wardrobe, makeup and hair. Drawn to this uniqueness and recalling the sense of not-belonging that is part of the intense experience of youth, Hugo's invitation to the models was: "simply present yourself." The resulting photographs embrace vulnerability and frailty as much as they do the agency and idealism of their subjects. Hugo's typological study questions fashion's commodification of youth and the "outsider," while embracing the beauty of peculiarity worn with acute awareness and the paradox of craving both difference and conformity.
PUBLISHER
RM
BOOK FORMAT
Paperback, 9.5 x 12.5 in. / 176 pgs / 98 color.
PUBLISHING STATUS
Pub Date 3/1/2022
Active
DISTRIBUTION
D.A.P. Exclusive
Catalog: SPRING 2022 p. 102
PRODUCT DETAILS
ISBN 9788417975753 FLAT40
List Price: $65.00 CDN $88.00
AVAILABILITY
In stock
Free Shipping
UPS GROUND IN THE CONTINENTAL U.S.
FOR CONSUMER ONLINE ORDERS
Published by RM.
Text by Pieter Hugo, Mario Bellatin, Ashraf Jamal.
This is Cape Town–based photographer Pieter Hugo's (born 1976) homage to Mexico, in portraits, landscapes and still-life vignettes with bright shades of pink, blue and green.
PUBLISHER
RM
BOOK FORMAT
Hardcover, 12.25 x 13.75 in. / 136 pgs / 56 color.
PUBLISHING STATUS
Pub Date 4/14/2020
Out of stock indefinitely
DISTRIBUTION
D.A.P. Exclusive
Catalog: SPRING 2020 p. 191
PRODUCT DETAILS
ISBN 9788417975159 FLAT40
List Price: $75.00 CDN $108.00
AVAILABILITY
Not available
STATUS: Out of stock indefinitely.
Published by Aperture.
Text by Ben Okri.
Pieter Hugo (born 1976) has garnered critical acclaim for his series of portraits and landscapes, each of which explores a facet of his native South Africa and neighboring African countries, including the film sets of Nigeria's Nollywood; toxic garbage dumps in Ghana; sites of mass executions in Rwanda; as well as albinos, the Hyena Men of Nigeria, honey collectors and garbage scavengers. Kin, a collection of images shot throughout South Africa over the past decade, focuses instead on the photographer's family, his community and himself. Writer John Mahoney characterizes it as the artist's first major work to focus exclusively on his personal experience in his native South Africa, a place defined by centuries of political, cultural and racial tensions and contradictions. Hugo describes his series as "an engagement with the failure of the South African colonial experiment and my sense of being 'colonial driftwood.' South Africa is such a fractured, schizophrenic, wounded and problematic place ... How does one take responsibility for history, and to what extent should one try? How do you raise a family in such a conflicted society?" This work attempts to address these questions and reflect on the nature of conflicting personal and collective narratives.


PUBLISHER


Aperture

BOOK FORMAT
Clth, 11.75 x 9.25 in. / 164 pgs / 80 color.

PUBLISHING STATUS
Pub Date 2/24/2015
No longer our product

DISTRIBUTION
Contact Publisher
Catalog:

PRODUCT DETAILS
ISBN 9781597113014 TRADE
List Price: $75.00 CDN $90.00

AVAILABILITY
Not Available