Lola Alvarez Bravo
Museum Exhibition Catalogues, Monographs, Artist's Projects, Curatorial Writings and Essays
Lola Alvarez Bravo was orphaned at eight years old, and in 1925 married the young Mexican photographer Manuel Alvarez Bravo. She began photographing in the 1930s and has become one of the most influential Mexican photographers in art history.
MONOGRAPHS & CATALOGS
Lola Alvarez Bravo
APERTURE/CENTER FOR CREATIVE PHOTOGRAPHY
Hardcover, 10 x 11 in. / 176 pgs / 104 duotones. | 7/15/2006 | Not Available
$50.00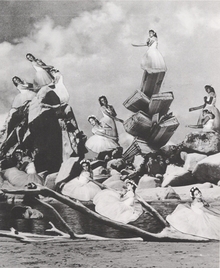 Lola Álvarez Bravo and the Photography of an Era
RM/MUSEO CASA ESTUDIO DIEGO RIVERA Y FRIDA KAHLO
Pbk, 8.25 x 11.75 in. / 156 pgs / 100 bw. | 3/31/2013 | Not available
$45.00
Published by RM/Museo Casa Estudio Diego Rivera y Frida Kahlo.
Text by James Oles, Adriana Zavala, Rachael Arauz, Deborah Dorotinsky, Ana Garduño, Karen Cordero, Cecilia Olivares, Cristóbal Andrés Jácome, Javier Vázquez et al.
Lola Álvarez Bravo was a pioneer of photomontage and a leading figure--along with Frida Kahlo, Tina Modotti, Diego Rivera and others--in Mexico's post-revolution cultural renaissance. Lola Álvarez Bravo and the Photography of an Era accompanies a touring exhibition presented at the Museo Casa Estudio Diego Rivera y Frida Kahlo in Mexico City, the Museum of Latin American Art in Long Beach, California and the Center for Creative Photography at the University of Tucson in Arizona, home of Álvarez Bravo's archives. It gathers 100 photographs and includes her well-known portraits of Kahlo and Rivera as well as photographs only recently discovered in the González Rendón archive. The selection not only demonstrates the great richness of the material contained in the archive, but also throws new light on Álvarez Bravo's working methods and provides a deeper understanding of the complexity of her career. The photographs convey her uses of Surrealism and photomontage (many examples of which are published here for the first time), as well as her mastery of various genres, from portraits of famous intellectuals and close friends to documentary images of urban and rural poverty in Mexico.

Born Dolores Martinez de Anda to wealthy parents in the state of Jalisco, Mexico, Lola Álvarez Bravo (1990–1993) was abandoned by her mother in her early youth; following her father's death, in her teen years she was sent to live with the family of her half-brother in Mexico City. It was here that she met the young Manuel Alvarez Bravo, whom she married in 1925. She received her first commission in 1936, photographing the colonial choir stalls of a former church, and in 1951 she opened an art gallery and was the first person to exhibit the paintings of Frida Kahlo.


BOOK FORMAT
Paperback, 8.25 x 11.75 in. / 156 pgs / 100 bw.
PUBLISHING STATUS
Pub Date 3/31/2013
Out of stock indefinitely
DISTRIBUTION
D.A.P. Exclusive
Catalog: SPRING 2013 p. 59
PRODUCT DETAILS
ISBN 9788415118374 TRADE
List Price: $45.00 CDN $60.00
AVAILABILITY
Not available
STATUS: Out of stock indefinitely.
Published by Aperture/Center for Creative Photography.
Essay by Elizabeth Ferrer. Foreword by Douglas R. Nickel.
This first comprehensive monograph in English for Mexico's first major woman photographer tracks a career equally exceptional for its remarkable range and for its compelling quality. Lola Alvarez Bravo explored her calling through photojournalism, commercial work and professional portrait-making, even as she was creating intensely personal images of people, places and things throughout her native Mexico. In addition, she played a vital role in the Mexican cultural scene as an inspiring teacher, a friend of innumerable artists (many of whom she photographed), and as the owner of a prestigious gallery that presented the first solo show by her friend Frida Kahlo, the subject of some of Alvarez Bravo's most powerful portraits. Although some of her photographs reflect the influence of her husband, Manuel Alvarez Bravo--they shared the same cameras and often the same roll of film--Lola had achieved her own aesthetic by the 1940s and 50s, concentrating on two particularly vivid bodies of work, portraiture and street photography. In these two disciplines she found a way to reveal a lyricism in the world around her, producing quiet reveries on life lived in the moment. This first English-language book to encompass the full range of her work includes previously unpublished images and several of her little-known photomontages.


PUBLISHER


Aperture/Center for Creative Photography

BOOK FORMAT
Hardcover, 10 x 11 in. / 176 pgs / 104 duotones.

PUBLISHING STATUS
Pub Date 7/15/2006
No longer our product

DISTRIBUTION
Contact Publisher
Catalog:

PRODUCT DETAILS
ISBN 9781931788946 TRADE
List Price: $50.00 CDN $60.00

AVAILABILITY
Not Available