Manfred Baumann
Museum Exhibition Catalogues, Monographs, Artist's Projects, Curatorial Writings and Essays
MONOGRAPHS & CATALOGS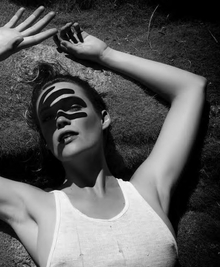 Manfred Baumann: Face to Face
HATJE CANTZ
Three decades of celebrity portraiture from an acclaimed master of the genre
Hbk, 9.75 x 12.25 in. / 216 pgs / 180 color. | 10/5/2021 | In stock
$62.00
Published by Hatje Cantz.
Edited by Nadine Barth.
The celebrity portraits of Austrian photographer Manfred Baumann (born 1968) capture distinct personalities while also framing them as special—larger than life. Through the lens of his Leica, Baumann has photographed countless celebrities of international renown, among them Sandra Bullock, William Shatner, Jack Black, Natalie Portman, Martin Sheen, Lionel Richie, Olivia Newton John, Bruce Willis, John Malkovich, Juliette Lewis, Angelina Jolie and Evander Holyfield.
Baumann's mostly black-and-white portraits often position the subject outside of the studio and within a scrupulously chosen backdrop—although Baumann calls Vienna and Los Angeles home, he frequently travels to shoot on location. The hardcover survey Face to Face compiles the best of the photographer's celebrity portraits. Viewed together, they give shape to the storyteller behind the camera and testify to the consistency and richness of his style.
BOOK FORMAT
Hardcover, 9.75 x 12.25 in. / 216 pgs / 180 color.
PUBLISHING STATUS
Pub Date 10/5/2021
Active
DISTRIBUTION
D.A.P. Exclusive
Catalog: FALL 2021 p. 103
PRODUCT DETAILS
ISBN 9783775750851 TRADE
List Price: $62.00 CDN $84.50
AVAILABILITY
In stock
Free Shipping
UPS GROUND IN THE CONTINENTAL U.S.
FOR CONSUMER ONLINE ORDERS