Lynda Benglis
Museum Exhibition Catalogues, Monographs, Artist's Projects, Curatorial Writings and Essays
MONOGRAPHS & CATALOGS
Lynda Benglis
CHEIM & READ
Hardcover, 9.25 x 11.75 in. / 66 pgs / 25 color / 1 bw. | 6/2/2004 | Not available
$45.00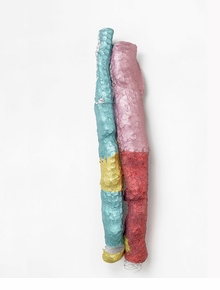 Lynda Benglis
CHEIM & READ
Hbk, 9.25 x 12 in. / 118 pgs / 40 color. | 5/23/2017 | Not available
$40.00
Published by Cheim & Read.
Text by Nancy Princenthal.
Since the 1960s, Lynda Benglis (born 1941) has been celebrated for the free, ecstatic forms she has poured, thrown and molded in ceramic, latex, polyurethane and bronze. In her new work, documented in this volume, she turns to handmade paper, which she wraps around a chicken wire armature, often painting the sand-toned surface in bright, metallic colors offset by strokes of deep, coal-based black. At other times she leaves the paper virtually bare. These works reflect the environment in which they were made, the "sere and windblown" landscape of Santa Fe, New Mexico, as Nancy Princenthal writes in her essay. "It is possible to see the bleached bones of the land—its mesas and arroyos; its scatterings of shed snakeskins and animal skeletons—in the new sculptures' combination of strength and delicacy." Simultaneously playful and visceral, these works enter into a lively dialogue with Benglis' previous explorations of materials and form.


PUBLISHER


Cheim & Read

BOOK FORMAT
Hardcover, 9.25 x 12 in. / 118 pgs / 40 color.

PUBLISHING STATUS
Pub Date 5/23/2017
Out of stock indefinitely

DISTRIBUTION
D.A.P. Exclusive
Catalog: SPRING 2017 p. 114

PRODUCT DETAILS
ISBN 9781944316044 TRADE
List Price: $40.00 CDN $54.00 GBP £35.00

AVAILABILITY
Not available

STATUS: Out of stock indefinitely.
Published by Cheim & Read.
Essay by Richard Marshall.
This survey of Lynda Benglis' sculpture from the late 1960s to the present begins with her early poured latex and dripped wax pieces, moves through her polyurethane and metal blobs, continues with her pleated and accumulated metal forms, and ends with "Bikini Incandescent Column," a Noguchi-esque lantern shaped like a mushroom cloud.


PUBLISHER


Cheim & Read

BOOK FORMAT
Hardcover, 9.25 x 11.75 in. / 66 pgs / 25 color / 1 bw.

PUBLISHING STATUS
Pub Date 6/2/2004
Out of print

DISTRIBUTION
D.A.P. Exclusive
Catalog: FALL 2004

PRODUCT DETAILS
ISBN 9780975331705 TRADE
List Price: $45.00 CDN $55.00

AVAILABILITY
Not available