Jo Baer
Museum Exhibition Catalogues, Monographs, Artist's Projects, Curatorial Writings and Essays
MONOGRAPHS & CATALOGS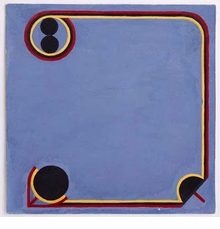 Jo Baer
WALTHER KöNIG, KöLN
Hbk, 7.75 x 7.75 in. / 208 pgs / 170 color / 10 bw. | 9/30/2013 | Out of stock
$50.00
Jo Baer: Up Close in the Land of the Giants
PACE PUBLISHING
Paintings and recollections of Ireland from the legendary American minimalist
Hbk, 8 x 10.75 in. / 130 pgs / 150 color / 15 bw. | 2/23/2021 | In stock
$60.00
Published by Pace Publishing.
Text by Jo Baer.
Collecting new paintings and writings by Amsterdam-based American painter Jo Baer (born 1929), Up Close in the Land of the Giants was created as a deliberate sibling to Baer's 2013 exhibition catalog In the Land of the Giants, which was published on the occasion of the artist's eponymously titled dual exhibition at the Stedelijk Museum Amsterdam and the Ludwig Museum Cologne.

This new volume echoes the 2013 book in layout and design but offers readers a deeper look into the artist's own thinking on her paintings and the reasons behind the sources she has chosen to reference in her compositions. The catalog is wide-ranging in its subject matter and is organized in sections that move between analysis of specific series of paintings to chapters that delve into bodies of research from fields as diverse as anthropology and archaeology to astronomy and geography, all of which have informed Baer's work.
BOOK FORMAT
Hardcover, 8 x 10.75 in. / 130 pgs / 150 color / 15 bw.
PUBLISHING STATUS
Pub Date 2/23/2021
Active
DISTRIBUTION
D.A.P. Exclusive
Catalog: SPRING 2021 p. 111
PRODUCT DETAILS
ISBN 9781948701334 TRADE
List Price: $60.00 CDN $84.00 GBP £53.00
AVAILABILITY
In stock
Free Shipping
UPS GROUND IN THE CONTINENTAL U.S.
FOR CONSUMER ONLINE ORDERS
Published by Walther König, Köln.

Jo Baer (born 1929) was a key figure among the pioneers of Minimalist painting in New York in the 1960s and early 1970s, regularly exhibiting alongside Andre, Judd, LeWitt, Flavin, Morris and Martin. During this period, she executed her iconic series of variously sized squares and vertical and horizontal rectangles, sometimes colorful and sometimes white with black borders, which she later expanded into diptych and triptych arrangements. In 1975, Baer turned away from minimalist painting and towards a more figurative language, also incorporating words. This catalogue looks at this shift, exploring the connections and disjunctions between the two groups of work. Baer's largely unknown drawings are introduced for the first time and placed in relation to her earlier and later paintings. Baer is presented as a highly independent artist, whose career has defied conventional linearity. This publication is the first comprehensive monograph devoted to her work.


BOOK FORMAT
Hardcover, 7.75 x 7.75 in. / 208 pgs / 170 color / 10 bw.
PUBLISHING STATUS
Pub Date 9/30/2013
Active
DISTRIBUTION
D.A.P. Exclusive
Catalog: FALL 2013 p. 136
PRODUCT DETAILS
ISBN 9783863353124 TRADE
List Price: $50.00 CDN $67.50
AVAILABILITY
Out of stock
STATUS: Out of stock
Temporarily out of stock pending additional inventory.