Tatiana Bilbao Estudio
Edited by Mette Marie Kallehauge, Lærke Rydal Jørgensen. Text by Nicolai Ouroussoff, Ruben Gallo, Hilary Sample, Tatiana Bilbao, Jacques Herzog.
Already known as one of Mexico's greatest architects, Tatiana Bilbao (born 1972) has created some of the country's most striking buildings. Her first project was a collaboration with artist Gabriel Orozco on his beach house >>more

Lars Müller Publishers/Louisiana Museum of Modern Art
ISBN 9783037786178
US $50.00 CAN $69.95 TRADE
Hbk, 9.5 x 11.75 in. / 240 pgs / 200 color.
Pub Date: 01/21/2020 In stock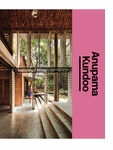 Anupama Kundoo: The Architect's Studio
Edited by Lærke Rydal Jørgensen, Mette Marie Kallehauge, Kjeld Kjeldsen. Text by Shumi Bose, Arjun Appadurai, Anupama Kundoo. Interview by Martha Thorne.
The fourth volume in the book series The Architect's Studio presents the Indian architect Anupama Kundoo (born 1967). Kundoo is a much-revered architect whose work aims to shed light on a scarce resource in our >>more

Lars Müller Publishers/Louisiana Museum of Modern Art
ISBN 9783037786376
US $50.00 CAN $70.00 TRADE
Hbk, 9.5 x 11.75 in. / 232 pgs / 200 color.
Pub Date: 12/15/2020 In stock