BOOK FORMAT
Paperback, 4.5 x 7 in. / 64 pgs.
PUBLISHING STATUS
Pub Date 11/15/2022
Active
DISTRIBUTION
D.A.P. Exclusive
Catalog: FALL 2022 p. 56
PRODUCT DETAILS
ISBN 9789493148802 TRADE
List Price: $18.00 CDN $25.00
AVAILABILITY
Out of stock
TERRITORY
NA LA ASIA AFR
THE FALL 2023 ARTBOOK | D.A.P. CATALOG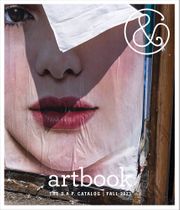 Preview our Fall 2023 catalog, featuring more than 500 new books on art, photography, design, architecture, film, music and visual culture.
&nbsp
&nbsp
Designerly Ways of Knowing

A Working Inventory of Things a Designer Should Know

By Danah Abdulla.


A poetical list of essential knowledge for designers that both politicizes and inspires

In 2018, the architect, urban designer, activist and critic Michael Sorkin published the now much-loved poetical essay-list "Two Hundred and Fifty Things an Architect Should Know." Struck by the compelling form of this text, and also inspired by Antonio Gramsci's advice that "'knowing thyself' requires compiling an inventory," the design critic, educator and researcher Danah Abdulla compiled a version for designers—"a list based on a search for knowledge and a designer's commitment to making the world a better place," as she writes in the introduction. "The list is generic," she notes—"it applies to all designers no matter their specialization, as every designer also needs to be a generalist." Abdulla's list includes: the experience of scents; how critical theory does not account for the colonial experience; the dangers of seeking out simplicity; visual pollution; and how certain emblems and symbols make people feel.
This list is not meant to be a definitive how-to guide but is rather approached as a series of prompts to consider or discard or spark a conversation.
Danah Abdulla (born 1986) is a Palestinian-Canadian designer, educator and researcher interested in new narratives and practices in design that push the disciplinary boundaries and definitions of the discipline. She is Program Director of Graphic Design at Camberwell, Chelsea and Wimbledon Colleges of Arts, and a founding member of the Decolonising Design platform.




STATUS: Out of stock

Temporarily out of stock pending additional inventory.

SPECTOR BOOKS

ISBN: 9783959057486
USD $20.00

| CAN $28

Pub Date: 3/5/2024
Forthcoming




SPECTOR BOOKS

ISBN: 9783959057479
USD $20.00

| CAN $28

Pub Date: 3/5/2024
Forthcoming




NAI010 PUBLISHERS

ISBN: 9789462087774
USD $40.00

| CAN $58

Pub Date: 10/3/2023
Active | In stock




RM/MUAC

ISBN: 9788419233417
USD $55.00

| CAN $79

Pub Date: 11/7/2023
Active | Out of stock




SET MARGINS' PUBLICATIONS

ISBN: 9789083318820
USD $20.00

| CAN $29

Pub Date: 9/5/2023
Active | In stock




SET MARGINS' PUBLICATIONS

ISBN: 9789083270616
USD $15.00

| CAN $21.5

Pub Date: 9/5/2023
Active | In stock




LARS MüLLER PUBLISHERS

ISBN: 9783037787328
USD $35.00

| CAN $50.5

Pub Date: 10/3/2023
Active | In stock




LARS MüLLER PUBLISHERS

ISBN: 9783037787335
USD $50.00

| CAN $72.5

Pub Date: 1/9/2024
Forthcoming




SET MARGINS' PUBLICATIONS

ISBN: 9789083318806
USD $27.00

| CAN $39

Pub Date: 1/9/2024
Forthcoming




SET MARGINS' PUBLICATIONS

ISBN: 9789083270609
USD $20.00

| CAN $29

Pub Date: 9/5/2023
Active | In stock




SET MARGINS' PUBLICATIONS

ISBN: 9789083318837
USD $16.95

| CAN $24.95

Pub Date: 9/5/2023
Active | In stock




SPECTOR BOOKS

ISBN: 9783959056977
USD $50.00

| CAN $72.5

Pub Date: 1/9/2024
Forthcoming