BOOK FORMAT
Paperback, 5.5 x 8.25 in. / 272 pgs.
PUBLISHING STATUS
Pub Date 6/25/2019
Active
DISTRIBUTION
D.A.P. Exclusive
Catalog: FALL 2019
PRODUCT DETAILS
ISBN 9789492095466 TRADE
List Price: $25.00 CDN $34.95
AVAILABILITY
In stock
TERRITORY
NA LA ME
THE FALL 2023 ARTBOOK | D.A.P. CATALOG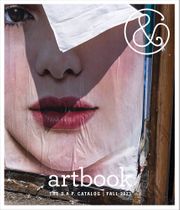 Preview our Fall 2023 catalog, featuring more than 500 new books on art, photography, design, architecture, film, music and visual culture.
&nbsp
&nbsp
Contemporary Artist Residencies

Reclaiming Time and Space

Edited by Taru Elfving, Irmeli Kokko, Pascal Gielen. Text by Livia Alexander, Nathalie Anglès, Helmut Batista, Taru Elfving, Pascal Gielen, Francisco Guevara, Maria Hirvi-Ijäs, Jean-Baptiste Joly, Patricia Jozef, Irmeli Kokko, Donna Lynas, Antti Majava, Vytautas Michelkevicius, Marita Muukkonen, Nina Möntmann, Jenni Nurmenniemi, Bojana Panevska, Alan Quireyns, Florian Schneider, Ivor Stodolsky.


Collecting writings from artists, theorists and artist residency facilitators, Contemporary Artist Residencies examines the present role of the residency for artists and the international art ecosystem. With a range of discussions on the continuously evolving role of residencies in our political and historical moment, the book also examines residencies' varied attempts at "reclaiming time and space" for artistic practice while serving as nodes for collaboration, research, and critical thinking—not to mention a crucial and sought-after means of promoting artists' career development and the international circulation of their work. The book features contributions by Pascal Gielen, Livia Alexander, Nathalie Anglès, Helmut Batista and Taru Elfving, among others. The latest of Valiz's Antennae series of books designed by Metahaven, Contemporary Artist Residencies helps to fill the surprising gap in books about how and why residencies function in today's art world.




Free Shipping

UPS GROUND IN THE CONTINENTAL U.S.
FOR CONSUMER ONLINE ORDERS

SPECTOR BOOKS

ISBN: 9783959057288
USD $35.00

| CAN $50

Pub Date: 3/5/2024
Forthcoming




FONDAZIONE PRADA

ISBN: 9788887029857
USD $85.00

| CAN $125

Pub Date: 11/21/2023
Forthcoming




MOUSSE PUBLISHING

ISBN: 9788867495917
USD $29.95

| CAN $43.95

Pub Date: 12/5/2023
Forthcoming




MOUSSE PUBLISHING

ISBN: 9788867495771
USD $30.00

| CAN $44

Pub Date: 12/5/2023
Forthcoming




MARSILIO ARTE

ISBN: 9791254631331
USD $45.00

| CAN $65

UK &pound 36

Pub Date: 12/12/2023
Forthcoming




DELMONICO BOOKS/HAMMER MUSEUM

ISBN: 9781636810874
USD $50.00

| CAN $73

UK &pound 42

Pub Date: 10/31/2023
Forthcoming




HATJE CANTZ

ISBN: 9783775754446
USD $62.00

| CAN $88

Pub Date: 10/10/2023
Active | In stock




VERLAG FüR MODERNE KUNST

ISBN: 9783903439658
USD $20.00

| CAN $29

Pub Date: 11/21/2023
Forthcoming




MOUSSE PUBLISHING

ISBN: 9788867495542
USD $29.95

| CAN $42.95

Pub Date: 11/7/2023
Forthcoming




HOLZWARTH PUBLICATIONS

ISBN: 9783947127405
USD $50.00

| CAN $72.5

Pub Date: 9/5/2023
Active | Out of stock




HAYWARD GALLERY PUBLISHING

ISBN: 9781853323768
USD $40.00

| CAN $58

Pub Date: 9/26/2023
Active | In stock




HATJE CANTZ

ISBN: 9783775754675
USD $62.00

| CAN $89

Pub Date: 9/19/2023
Active | In stock