BOOK FORMAT
Paperback, 5 x 8 in. / 224 pgs / 64 color.
PUBLISHING STATUS
Pub Date 8/25/2016
Active
DISTRIBUTION
D.A.P. Exclusive
Catalog: Publisher Backlist
PRODUCT DETAILS
ISBN 9789491677915 TRADE
List Price: $25.00 CDN $34.95
AVAILABILITY
In stock
TERRITORY
NA LA ASIA AFR
THE FALL 2023 ARTBOOK | D.A.P. CATALOG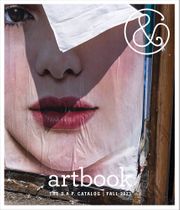 Preview our Fall 2023 catalog, featuring more than 500 new books on art, photography, design, architecture, film, music and visual culture.
&nbsp
&nbsp
Navigation

A Publication for a Place without a Historical Center, Created Continuously Anew in Meetings and Events That Occur in Empowered Spaces, Simultaneously

Edited with text by Robin Curtis, Ellie Ga, Tim Ingold, Hana Jaber, Lisi Raskin, Mikkel Bolt Rasmussen, Lili von Wallenstein, Barbara Wien. Text by Catalina Aguilera, Ehab Aljaby, Soren Andreasen, Isak Anshelm, Malou da Cunha Bang, Donatella Bernardi, Ludvig Briland, Anton Brolin, Dector & Dupuy, Marjolijn Dijkman, Tomas Kominis Endresen, Helena Fernandez-Cavada, Yara Flores, Gideonsson/Londre, Goldin+Senneby, Cecilia Gronberg, et al.


In this paperback, questions regarding how to navigate in the present are not raised to generate an answer, a method, or a map, but rather as framing principles analogous to those of a logbook. On a voyage, a ship's crew registers surroundings and important events in a manner such as this. The cargo contained within this edition is an assemblage of materials provided by over 60 practitioners from a variety of professions and personal backgrounds, and is therefore heterogeneous in terms of language, form, and content. The resulting narratives emerge across the pages in the trails left by individuals and collectives of human beings as they move, teach, learn and unlearn, traversing the various apparatuses that determine their agency. In this way, the term "navigation" is activated, implicitly and explicitly on myriad levels such as the biographical, historical, epistemological, technological, and the aesthetical.




Free Shipping

UPS GROUND IN THE CONTINENTAL U.S.
FOR CONSUMER ONLINE ORDERS

MOUSSE PUBLISHING

ISBN: 9788867493425
USD $37.00

| CAN $55

Pub Date: 2/19/2019
Active | In stock




WALTHER KöNIG, KöLN

ISBN: 9783753303864
USD $35.00

| CAN $50

Pub Date: 1/9/2024
Forthcoming




ONOMATOPEE

ISBN: 9789493148949
USD $26.00

| CAN $38

Pub Date: 1/9/2024
Forthcoming




SPECTOR BOOKS

ISBN: 9783959056854
USD $30.00

| CAN $44

Pub Date: 3/5/2024
Forthcoming




ART ISSUES PRESS

ISBN: 9798987596500
USD $27.95

| CAN $39.95

UK &pound 22

Pub Date: 10/24/2023
Active | In stock




WALTHER KöNIG, KöLN

ISBN: 9783753300092
USD $35.00

| CAN $50.5

Pub Date: 10/3/2023
Active | In stock




VALIZ

ISBN: 9789493246249
USD $28.95

| CAN $41.95

Pub Date: 10/3/2023
Active | In stock




SPECTOR BOOKS

ISBN: 9783959056809
USD $35.00

| CAN $50.5

Pub Date: 10/3/2023
Active | In stock




SPECTOR BOOKS

ISBN: 9783959057080
USD $390.00

| CAN $565

Pub Date: 1/9/2024
Forthcoming




SET MARGINS' PUBLICATIONS

ISBN: 9789083270685
USD $20.00

| CAN $29

Pub Date: 9/5/2023
Active | In stock




PIONEER WORKS PRESS

ISBN: 9781945711190
USD $25.00

| CAN $36

UK &pound 22

Pub Date: 1/9/2024
Forthcoming




ONOMATOPEE PROJECTS

ISBN: 9789493148918
USD $42.00

| CAN $60

Pub Date: 1/9/2024
Forthcoming