BOOK FORMAT
Paperback, 6 x 8 in. / 182 pgs / 31 bw.
PUBLISHING STATUS
Pub Date 4/7/2018
Active
DISTRIBUTION
D.A.P. Exclusive
Catalog: Publisher Backlist
PRODUCT DETAILS
ISBN 9789491677748 TRADE
List Price: $25.00 CDN $34.95
AVAILABILITY
In stock
TERRITORY
NA LA ASIA AFR
THE FALL 2023 ARTBOOK | D.A.P. CATALOG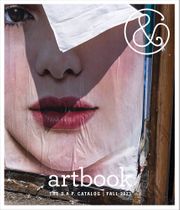 Preview our Fall 2023 catalog, featuring more than 500 new books on art, photography, design, architecture, film, music and visual culture.
&nbsp
&nbsp
The Standard Book of Noun-Verb Exhibition Grammar

Edited with text by Niekolaas Johannes Lekkerkerk. Text and afterword by Timotheus Vermeulen.


The Standard Book of Noun-Verb Exhibition Grammar is a partial compendium of the different modes of being that inhabit exhibitions. These different modes of being, often placed outside the realm of art objects proper, are described and activated here as crucial players in the world of contemporary art. Maximizing a poetic resourcefulness, this book proposes the exhibition as an ecology full of things that are infinitely more dimensional than their ascribed functionality would lead us to believe, and creates a space where species meet, where ontological and epistemological registers clash, overlap, and contaminate each other, where the living and inert, organic and inorganic exchange properties, qualities, and performances. Ultimately this book aims to show that what revolves around, within, and beyond any given system resolves to be just as serious and important as what that system aims to convey.




Free Shipping

UPS GROUND IN THE CONTINENTAL U.S.
FOR CONSUMER ONLINE ORDERS

MOUSSE PUBLISHING

ISBN: 9788867493425
USD $37.00

| CAN $55

Pub Date: 2/19/2019
Active | In stock




WALTHER KöNIG, KöLN

ISBN: 9783753303864
USD $35.00

| CAN $50

Pub Date: 1/9/2024
Forthcoming




ONOMATOPEE

ISBN: 9789493148949
USD $26.00

| CAN $38

Pub Date: 1/9/2024
Forthcoming




SPECTOR BOOKS

ISBN: 9783959056854
USD $30.00

| CAN $44

Pub Date: 3/5/2024
Forthcoming




ART ISSUES PRESS

ISBN: 9798987596500
USD $27.95

| CAN $39.95

UK &pound 22

Pub Date: 10/24/2023
Active | In stock




WALTHER KöNIG, KöLN

ISBN: 9783753300092
USD $35.00

| CAN $50.5

Pub Date: 10/3/2023
Active | In stock




VALIZ

ISBN: 9789493246249
USD $28.95

| CAN $41.95

Pub Date: 10/3/2023
Active | In stock




SPECTOR BOOKS

ISBN: 9783959056809
USD $35.00

| CAN $50.5

Pub Date: 10/3/2023
Active | In stock




SPECTOR BOOKS

ISBN: 9783959057080
USD $390.00

| CAN $565

Pub Date: 1/9/2024
Forthcoming




SET MARGINS' PUBLICATIONS

ISBN: 9789083270685
USD $20.00

| CAN $29

Pub Date: 9/5/2023
Active | In stock




PIONEER WORKS PRESS

ISBN: 9781945711190
USD $25.00

| CAN $36

UK &pound 22

Pub Date: 1/9/2024
Forthcoming




ONOMATOPEE PROJECTS

ISBN: 9789493148918
USD $42.00

| CAN $60

Pub Date: 1/9/2024
Forthcoming