BOOK FORMAT
Hardcover, 9.8 x 11.2 in. / 96 pgs.
PUBLISHING STATUS
Pub Date 10/20/2015
Active
DISTRIBUTION
D.A.P. Exclusive
Catalog: Publisher Backlist
PRODUCT DETAILS
ISBN 9789491677304 TRADE
List Price: $19.95 CDN $29.95
AVAILABILITY
In stock
THE FALL 2023 ARTBOOK | D.A.P. CATALOG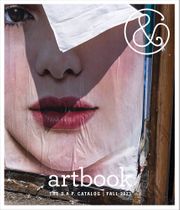 Preview our Fall 2023 catalog, featuring more than 500 new books on art, photography, design, architecture, film, music and visual culture.
&nbsp
&nbsp
History Rising

Edited by Marjolijn Dijkman, Jes Fernie. Text by Jonathan Watkins, Krzystof Fijalkowski, Jes Ferni.


History Rising is an engaging study of museum display by artist Marjolijn Dijkman and curator Jes Fernie. Readers are invited to reconsider their view of history by looking at the mechanisms museums put in place to create a sense of order and hierarchy within their collections. By distancing museum objects from their support structures History Rising forms a critique of the assumptions that are made about how things are positioned, who chooses to display them, and how the social, political and aesthetic choices that are made in the process dictate the language of display.

The book consists of visual and written essays, an interview between artist and curator, an inventory of works, and documentation of Dijkman's installations in museums and galleries in the UK. The installations and sculptures propose strange and fantastical juxtapositions, alleviate objects from the weight of history and create links with modernism, the heritage industry and the aesthetics of sci-fi.




Free Shipping

UPS GROUND IN THE CONTINENTAL U.S.
FOR CONSUMER ONLINE ORDERS

MOUSSE PUBLISHING

ISBN: 9788867493104
USD $30.00

| CAN $45

Pub Date: 7/23/2019
Active | In stock




VALIZ

ISBN: 9789493246157
USD $29.95

| CAN $41.95

Pub Date: 6/13/2023
Active | In stock




HATJE CANTZ

ISBN: 9783775754422
USD $28.00

| CAN $39

Pub Date: 1/31/2023
Active | In stock




HATJE CANTZ

ISBN: 9783775753364
USD $55.00

| CAN $76

Pub Date: 11/8/2022
Active | In stock




MOUSSE PUBLISHING

ISBN: 9788867495054
USD $20.00

| CAN $27

Pub Date: 1/24/2023
Active | In stock




WALTHER KöNIG, KöLN

ISBN: 9783753302096
USD $85.00

| CAN $118

Pub Date: 1/10/2023
Active | In stock




WALTHER KöNIG, KöLN

ISBN: 9783753302386
USD $35.00

| CAN $48

Pub Date: 4/11/2023
Active | In stock




KAPH BOOKS

ISBN: 9786148035456
USD $45.00

| CAN $63

Pub Date: 6/13/2023
Active | In stock




WALTHER KöNIG, KöLN

ISBN: 9783753301297
USD $39.95

| CAN $55.95

Pub Date: 9/13/2022
Active | In stock




SPECTOR BOOKS

ISBN: 9783959055260
USD $15.00

| CAN $21

Pub Date: 8/8/2023
Forthcoming




HATJE CANTZ

ISBN: 9783775752763
USD $28.00

| CAN $39

Pub Date: 1/31/2023
Active | In stock




JRP|EDITIONS

ISBN: 9783037645697
USD $29.95

| CAN $39.95

Pub Date: 3/15/2022
Active | In stock