BOOK FORMAT
Clth, 8.75 x 10.25 in. / 116 pgs / 13 bw / 46 duotone.
PUBLISHING STATUS
Pub Date 7/31/2011
Out of stock indefinitely
DISTRIBUTION
D.A.P. Exclusive
Catalog: FALL 2011 p. 83
PRODUCT DETAILS
ISBN 9789055448791 TRADE
List Price: $40.00 CDN $54.00
AVAILABILITY
Not available
THE FALL 2023 ARTBOOK | D.A.P. CATALOG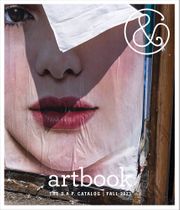 Preview our Fall 2023 catalog, featuring more than 500 new books on art, photography, design, architecture, film, music and visual culture.
&nbsp
&nbsp
Stan Douglas: Midcentury Studio

Edited by Tommy Simoens. Text by Christopher Phillips, Pablo Sigg.


Vancouver photographer and video artist Stan Douglas (born 1960) has been celebrated since the late 1980s for his politically freighted retrievals of obsolete technologies and failed utopias. The emphatically narrative character of his films and photographs has made for comparisons with his Vancouver contemporary Jeff Wall, but Douglas also laces his work with a literary engagement, in references to works by Proust, Beckett and other writers. Midcentury Studio sees Douglas pursue a new direction. It chronicles the burgeoning discipline of press photography in North America during the postwar period, for which Douglas assumes the role of a fictional photographer, creating a series of images hypothetically produced between 1945-1951. Douglas constructed a "mid-century studio" using authentic equipment as well as actors to produce carefully staged, black-and-white photographs that painstakingly emulate the period's obsession with crime scenes, dance, gambling and technology. This volume juxtaposes actual photographs from the era with Douglas' superb photo-fictions.


Featured image, Stan Douglas's Hair is reproduced from Midcentury Studio.

PRAISE AND REVIEWS

La Lettre de la Photographie

Sara Rosen

Taken as a whole, Midcentury Studio is like an old song, timeless in its simplicity, yet layered with references to a time and place forever erased but for the photographs.

STATUS: Out of stock indefinitely.

FROM THE BOOK

"

Midcentury Studio

seems at first glance to embrace an improbable mix of photographic genres, encompassing local spot news photos, studio portraits, and carefully staged product shots. It takes only a brief look at the online selections from the Artray collection found on the Vancouver Public Library's website, however, to discover that Douglas has been remarkably faithful to the range of imagery likely to have been produced by a scrambling photo studio of the 1940s and 1950s. portraits of the local heroes and villains of the day, crime-scene reportage, architectural photographs of new buildings, records of publicity events and renderings of a suave magician's stage routine all comfortably coexist in the Artray archive, creating a remarkable mosaic of Vancouver life in the 1940s and 50s. Taking this model as a starting point, Douglas began to gather source images from a wide variety of period photographic archives. Sometimes reworking specific details found in a given photograph, sometimes adapting an unusual lighting design, sometimes freely improvising around a discovered motif, he created the group of works that make up

Midcentury Studio

."

Christopher Phillips, excerpted from The Adventures of a Photographer in Midcentury Studio.