BOOK FORMAT
Hardcover, 8 x 11 in. / 400 pgs / illustrated throughout.
PUBLISHING STATUS
Pub Date 3/22/2016
Out of stock indefinitely
DISTRIBUTION
D.A.P. Exclusive
Catalog: SPRING 2016 p. 123
PRODUCT DETAILS
ISBN 9788887029642 SDNR30
List Price: $95.00 CDN $127.50
AVAILABILITY
Not available
TERRITORY
NA LA ASIA AU/NZ AFR
EXHIBITION SCHEDULE
Houston, TX
The Menil Collection, 02/16–06/16

Milan, Italy
Fondazione Prada, 09/16–12/16
THE FALL 2023 ARTBOOK | D.A.P. CATALOG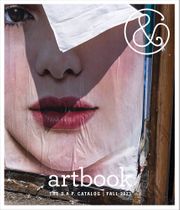 Preview our Fall 2023 catalog, featuring more than 500 new books on art, photography, design, architecture, film, music and visual culture.
&nbsp
&nbsp
William N. Copley

Edited with introduction by Germano Celant, Toby Kamps. Text by Gwen Allen, Paul R. Franklin, Alison Gingeras, Jonathan Griffin.


William N. Copley (1919–96) was a multifaceted American artist and art-world catalyst. Creator of madcap narrative paintings, drawings and installations, Copley was a unique figure in postwar art history well known for his humorous and sarcastic imagery. Known by his nom de plume CPLY, he was a self-taught artist pushing the limits of art-world decorum, as well as a collector, gallerist and connector of some of the most important artists of the 20th century, in particular European Surrealists and Dadaists such as Max Ernst, Man Ray and Marcel Duchamp, and American Pop artists. William N. Copley assembles works from all phases of the artist's creation, from the Parisian years to the last period spent mostly in solitude in his home in Sugarloaf Key, Florida, tracing the development of his painterly style and continual experiments with line, color, pattern and allegory. In Paris in the early 1950s, Copley developed a unique, ribald figurative style that bucked prevailing trends toward abstraction, taking inspiration from Surrealist painting, American, cartoon and silent-movie imagery. Throughout his career, he repeatedly returned to subjects like nudes, cars and nationalism; later works reveal his abiding interest in political and psychosexual themes, surrealist visual punning and vaudevillian Americana, making Copley a link between European Surrealist and American Pop circles. Featuring approximately 250 paintings and works on paper, the volume accompanies the first comprehensive presentation of the artist's work in an American museum, also scheduled to travel to Italy.


"And Off to Bed with You" (1995) is reproduced from William N. Copley.

PRAISE AND REVIEWS

ARTnews

Anne Doran

An American retrospective of Copley's work seem not only relevant, but inevitable… Kamp's courageous and important survey illuminates both the consistency and the sophistication of Copley's vision and most importantly its truthfulness to itself.

The New York Times

Roberta Smith

William N. Copley (1919-96) is among the 20th-century outliers — philanthropist, newspaper reporter, publisher, art dealer, writer, peripatetic lover of women, connoisseur of the high life, generous friend of artists (especially Surrealists) and eccentric folk-Pop painter. All of this is captured in William N. Copley, a lavish catalog for a retrospective at the Prada Foundation in Milan and seen at the Menil Collection in Houston earlier this year. Most seductive are the ribald, cartoonish, exquisitely colored paintings depicting shenanigans that frequently include women in bloomers, or less.

AIGA Design Archives

Jessica Helfand

Beautiful use of newsprinted, uncoated papers, and a surprisingly animated grid make this a perfect package. The type bleeding on the spine is icing on the cake! (50 Covers of 2016)

STATUS: Out of stock indefinitely.

CORY REYNOLDS | DATE 3/31/2016

"En Garde" (1962) is reproduced from Fondazione Prada and The Menil Collection's stupendous new William N. Copley exhibition catalog/bible . Beautifully printed on matte paper, copiously illustrated and deeply researched, this book does it all. Menil curator Toby Kamps writes, "The world according to CPLY is an antic, ribald and candy-colored place. Rendered in a panoply of inventive, self-taught representational styles, the paintings, drawings, and other works of William Nelson Copley overflow with outrageous imagery: circus-poster caricature, slapstick humor and a surfeit of female nudes that puts Rubens to shame… A descendant of Hieronymus Bosch, William Hogarth and Otto Dix, he tilted relentlessly at the windmills of morality, nationalism and high-seriousness—all the while creating outlandish allegories of the battle of the sexes. At the heart of his exuberantly playful and puerile projects, either as express or implied subject, is a vaguely autobiographical character that the artist Anne Doran describes as a 'nattily dressed and deeply ridiculous Everyman in mad pursuit of liberty, poetry and sex.'" continue to blog

WALTHER KöNIG, KöLN

ISBN: 9783960987765
USD $29.95

| CAN $41.95

Pub Date: 8/18/2020
Active | In stock




WALTHER KöNIG, KöLN

ISBN: 9783863354589
USD $22.00

| CAN $30.5

Pub Date: 9/30/2014
Active | In stock




KASMIN

ISBN: 9780996813457
USD $45.00

| CAN $60

Pub Date: 11/20/2018
Active | In stock