PUBLISHER


Charta

BOOK FORMAT
Hardcover, 12 x 9.5 in. / 112 pgs / 46 duotone.

PUBLISHING STATUS
Pub Date 9/30/2011
No longer our product

DISTRIBUTION
D.A.P. Exclusive
Catalog: FALL 2011 p. 166

PRODUCT DETAILS
ISBN 9788881588138 TRADE
List Price: $49.95 CDN $60.00

AVAILABILITY
Not available
THE FALL 2023 ARTBOOK | D.A.P. CATALOG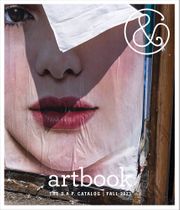 Preview our Fall 2023 catalog, featuring more than 500 new books on art, photography, design, architecture, film, music and visual culture.
&nbsp
&nbsp
CHARTA

Giuseppe Ripa: Liminal

Text by Renato Miracco, Giuseppe Ripa.


In the hands of Italian photographer Giuseppe Ripa (born 1962), even the most familiar cities can be transfigured into surreal landscapes. Following his 2008 elegy for Milan, in Liminal, New York provides the setting for Ripa's elegant black-and-white photographs, which are as likely to stress hyperdefinition as they are to revel in languid blurriness.


"Few cities in the world transmit energy and at the same time are able to evoke the alienated condition of modern man like New York. It's the place of opposites, where perceptual ambiguity is at its peak. Its skyscrapers, like towers of Babel and evolved totems, challenge by day and invoke by night the God of the sky."

Giuseppe Ripa, excerpted from Liminal, from which the featured image, Outland, 2009, is reproduced.

FROM THE BOOK

"After various encounters and chats with the artist and while this work was being planned, we discovered this book could be considered a diary, the travel notes of an Italian wandering around the world, and a sort of tribute to the 150th anniversary of the Unification of Italy, which we celebrate this year. An uncommon tribute in a year oftentimes replete with rhetoric, but, knowing Ripa, totally spontaneous and sincere.

Emotional, not concise, travel notes, a journey of the mind outside Italy, teeming with impressions, evanescent ones like memory itself, but printed on glossy paper. A journey into multi-dimensional and multi-emotional space that hosts those who observe and comprehend, there where

form

has finally broken free from constraints and what remains are only fragments of reality imbued with sensations."

Renato Miracco, excerpted from Surf's Up: Altered States Inside Our Mind in Liminal.