BOOK FORMAT
Special edition, 9.5 x 12 in. / 176 pgs.
PUBLISHING STATUS
Pub Date 2/19/2019
Out of stock indefinitely
DISTRIBUTION
D.A.P. Exclusive
Catalog: SPRING 2019 p. 100
PRODUCT DETAILS
ISBN 9788862086288 SDNR20
List Price: $600.00 CDN $800.00
AVAILABILITY
Not available
TERRITORY
NA LA
THE FALL 2023 ARTBOOK | D.A.P. CATALOG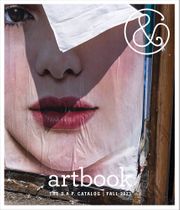 Preview our Fall 2023 catalog, featuring more than 500 new books on art, photography, design, architecture, film, music and visual culture.
&nbsp
&nbsp
Kenro Izu: Seduction

Limited Edition

Introduction by Eikoh Hosoe.


This special edition of Kenro Izuís Seduction is limited to 15 copies and includes a print signed and numbered by Izu. The print itself features a mask facing a pear.

Inspired by 19th-century photography methods, Izu has been working with a large-format camera since 1983, making detailed, lustrous contact prints on hand-coated platinum palladium paper. A master technician, Izu is considered one of the greatest living exponents of the 19th-century platinum printing process. Seduction presents his photographs of fruits, plants and human figures, all made with a large-format film camera and contact printed in platinum from 8x10 to 14x20-inch negatives.




STATUS: Out of stock indefinitely.

HATJE CANTZ

ISBN: 9783775754507
USD $269.00

| CAN $376

Pub Date: 8/8/2023
Active | Out of stock




DAMIANI

ISBN: 9788862087445
USD $650.00

| CAN $910

Pub Date: 5/25/2021
Active | In stock




HATJE CANTZ

ISBN: 9783775748582
USD $270.00

| CAN $375

Pub Date: 5/10/2022
Active | In stock




DAMIANI

ISBN: 9788862087421
USD $1,000.00

| CAN $1400

Pub Date: 6/15/2021
Active | Out of stock




JRP|EDITIONS/ZOLO PRESS

ISBN: 9783037645642
USD $150.00

| CAN $210

Pub Date: 12/5/2023
Forthcoming




STEIDL

ISBN: 9783958295445
USD $750.00

| CAN $1040

Pub Date: 8/31/2021
Active | In stock




DAMIANI

ISBN: 9788862087186
USD $500.00

| CAN $700

Pub Date: 10/13/2020
Active | In stock




STEIDL

ISBN: 9783958297692
USD $35,000.00

| CAN $49000

Pub Date: 3/30/2021
Active | Out of stock




DAMIANI

ISBN: 9788862086929
USD $450.00

| CAN $630

Pub Date: 4/7/2020
Active | In stock




HOLZWARTH PUBLICATIONS

ISBN: 9783947127146
USD $290.00

| CAN $385

Pub Date: 1/21/2020
Active | In stock




HENI PUBLISHING

ISBN: 9781912122257
USD $175.00

| CAN $240

Pub Date: 6/9/2020
Active | In stock




SKIRA

ISBN: 9788857234885
USD $100.00

| CAN $135

Pub Date: 4/23/2019
Active | In stock