BOOK FORMAT
Hardcover, 9.5 x 11.5 in. / 88 pgs / 52 color.
PUBLISHING STATUS
Pub Date 1/9/2024
Forthcoming
DISTRIBUTION
D.A.P. Exclusive
Catalog: MID WINTER 2023 p. 17
PRODUCT DETAILS
ISBN 9788857250939 TRADE
List Price: $45.00 CDN $65.00
AVAILABILITY
Awaiting stock
TERRITORY
NA LA
EXHIBITION SCHEDULE
Oklahoma City, OK
Oklahoma City Museum of Art, 08/24/24–01/05/25

Vero Beach, FL
Vero Beach Museum of Art, 10/25–12/25

Elmhurst, IL
Elmhurst Art Museum, 11/09/23–01/07/24

Lafayette, LA
Hilliard Art Museum, University of Louisiana at Lafayette, 02/01/25–04/26/25


THE FALL 2023 ARTBOOK | D.A.P. CATALOG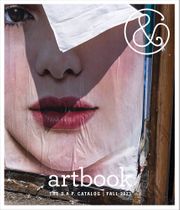 Preview our Fall 2023 catalog, featuring more than 500 new books on art, photography, design, architecture, film, music and visual culture.
&nbsp
&nbsp
Picasso and the Progressive Proof

Linocut Prints from a Private Collection

Edited with text by Richard P. Townsend.


A deep dive into Picasso's engagement with one of printmaking's most fascinating and demanding mediums: the linocut

While there has been considerable interest in the later work of Pablo Picasso over the past several decades, there remains much to discover regarding his prodigious printmaking activities, specifically on the role played by the progressive proof. There has been an uptick in research and acquisition of these sets of proofs by museums and private collectors over the past 20 years, but exhibitions and publications have lagged behind.
On the occasion of the 50th anniversary of the death of Pablo Picasso (1881–1973), one of the towering creative figures of the 20th century, Picasso and the Progressive Proof: Linocut Prints from a Private Collection explores in depth an aspect of the artist's late graphic output: the linoleum block or linocut. Published prints and their related proofs drawn from a notable private collection are examined in the context of themes Picasso developed over his entire career: the Spanish-born artist's love of the corrida or bullfight; his interest in Antiquity; and above all, his competition with the Old Masters.




STATUS: Forthcoming | 1/9/2024

This title is not yet published in the U.S. To pre-order or receive notice when the book is available, please email orders @ artbook.com

SKIRA

ISBN: 9788857250939
USD $45.00

| CAN $65

Pub Date: 1/9/2024
Forthcoming




HATJE CANTZ

ISBN: 9783775755795
USD $50.00

| CAN $73

Pub Date: 10/31/2023
Active | In stock




THE MUSEUM OF MODERN ART, NEW YORK

ISBN: 9781633451391
USD $65.00

| CAN $94

Pub Date: 10/10/2023
Active | In stock




LA FáBRICA

ISBN: 9788418934735
USD $45.00

| CAN $65

UK &pound 40

Pub Date: 10/3/2023
Active | In stock




DELMONICO BOOKS/AMERICAN FEDERATION OF ARTS

ISBN: 9781636810843
USD $45.00

| CAN $63

UK &pound 39

Pub Date: 4/25/2023
Active | Out of stock




DELMONICO BOOKS/HAMMER MUSEUM

ISBN: 9781636810232
USD $50.00

| CAN $67

UK &pound 42

Pub Date: 9/20/2022
Active | Out of stock




SKIRA PARIS

ISBN: 9782370741776
USD $30.00

| CAN $41.5

Pub Date: 5/31/2022
Active | In stock




LA FáBRICA

ISBN: 9788417769727
USD $45.00

| CAN $61

UK &pound 38

Pub Date: 9/28/2021
Active | In stock




HATJE CANTZ

ISBN: 9783775748056
USD $50.00

| CAN $70

Pub Date: 2/9/2021
Active | In stock




DELMONICO BOOKS/ART GALLERY OF ONTARIO/THE PHILLIPS COLLECTION

ISBN: 9781942884927
USD $50.00

| CAN $70

UK &pound 44

Pub Date: 11/30/2021
Active | In stock




SILVANA EDITORIALE

ISBN: 9788836644872
USD $35.00

| CAN $49

Pub Date: 10/6/2020
Active | In stock




POLÍGRAFA

ISBN: 9788434313811
USD $11.95

| CAN $16.95

Pub Date: 3/10/2020
Active | In stock




ROYAL ACADEMY OF ARTS

ISBN: 9781912520176
USD $60.00

| CAN $85

Pub Date: 3/24/2020
Active | In stock




LA FáBRICA

ISBN: 9788417769154
USD $45.00

| CAN $63

UK &pound 38

Pub Date: 1/21/2020
Active | In stock




LA FáBRICA

ISBN: 9788417048754
USD $55.00

| CAN $75

UK &pound 47

Pub Date: 9/25/2018
Active | Out of stock




LOUISIANA MUSEUM OF MODERN ART

ISBN: 9788793659025
USD $35.00

| CAN $47.5

Pub Date: 8/28/2018
Active | Out of stock