PUBLISHER


Fundación Colección Thyssen-Bornemisza

BOOK FORMAT
Hardcover, 10.75 x 9.5 in. / 231 pgs / 127 color.

PUBLISHING STATUS
Pub Date 10/27/2015
Out of stock indefinitely

DISTRIBUTION
D.A.P. Exclusive
Catalog: FALL 2015 p. 40

PRODUCT DETAILS
ISBN 9788415113676 TRADE
List Price: $75.00 CDN $99.00 GBP £65.00

AVAILABILITY
Not available
TERRITORY
WORLD
THE FALL 2023 ARTBOOK | D.A.P. CATALOG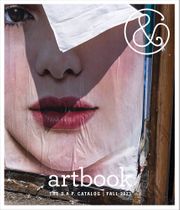 Preview our Fall 2023 catalog, featuring more than 500 new books on art, photography, design, architecture, film, music and visual culture.
&nbsp
&nbsp
FUNDACIóN COLECCIóN THYSSEN-BORNEMISZA

Zurbarán

A New Perspective

Text by Odile Delenda, Mar Borobia, Almudena Ros, José Fernández, Enrique Valdivieso, Benito Navarrete.


This volume offers the most comprehensive overview in print--and the first substantial English-language monograph in decades--on the great 17th-century Spanish painter Zurbarán. It spans his entire career, from his earliest commissions to key works from his mature period, plus works recently rediscovered over the past few years.
A contemporary of Velázquez, Zurbarán developed an austere vision that combined exacting realism with a palpable mysticism. Though he was sometimes known as "the Spanish Caravaggio" for his harsh use of chiaroscuro, Zurbarán's particular achievement was his creation of a more austere quietism, and a less foreboding if more melancholy atmosphere--qualities which lent themselves ideally to such genres as still lifes and his portraits of monks and martyrs, and which also ensured his importance for early modernism (especially Cubism).
Examining this beloved painter's oeuvre across six themed sections, Zurbarán: A New Perspective includes work by a selection of his most talented pupils, and by his son Juan de Zurbarán, also a superb still-life painter.
Francisco Zurbarán (1598-1664) is closely associated with the city of Seville, where he served his apprenticeship, and where his most famous painting, the ca. 1631 "Apotheosis of Saint Thomas Aquinas," now resides, at the Seville Museum. Zurbarán served as court painter to Philip IV, who is said to have revered him as "painter to the king, king of painters."


Featured image is reproduced from Zubarán.

STATUS: Out of stock indefinitely.