BOOK FORMAT
Paperback, 9.5 x 6.5 in. / 270 pgs / illustrated throughout.
PUBLISHING STATUS
Pub Date 1/9/2016
Active
DISTRIBUTION
D.A.P. Exclusive
Catalog: Publisher Backlist
PRODUCT DETAILS
ISBN 9783959050913 TRADE
List Price: $39.00 CDN $52.50
AVAILABILITY
In stock
THE FALL 2023 ARTBOOK | D.A.P. CATALOG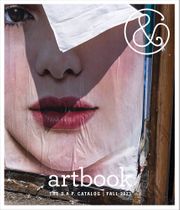 Preview our Fall 2023 catalog, featuring more than 500 new books on art, photography, design, architecture, film, music and visual culture.
&nbsp
&nbsp
In Reserve: The Household!

Historic Models and Contemporary Positions from the Bauhaus

Edited with text by Regina Bittner, Elke Krasny. Text by Rosie Cox, Adam Drazin, Katherine Gibson, Rania Ghosn, Hilde Heynen, Maliha Safri, Stefani Bardin, Katja Szymczak. Contributions by Gemma Savio, Chloé Roubert, Irma del Valle, Iris Lacoudre, Alison Hugill, Andres Jaque, Sarah Bonnemaison, Zissis Kotionis, Phoebe Giannisi, Yane Calovski, Mauro Gil-Fournier, et al.


Examining the costs of running a modern household in the face of climate change and dwindling resources

"How are we to live in a way that is healthy and economical?" One answer to this question was provided by Ernst Jahn's film of the same name ("Wie wohnen wir gesund und wirtschaftlich?," 1926–28), which showed the kitchen in the Gropius House complete with all the latest domestic appliances. The Dessau Masters' Houses were not only showcases of "new living" (Neues Wohnen) but also places where modern methods of housekeeping could be demonstrated. The topical relevance of this question was discussed at the 2015 Haushaltsmesse, an international trade fair on the art of housekeeping and budgeting. In Reserve: The Household!, which takes a documentary approach to this subject, now brings together these different viewpoints eyeing the question through the prism of the problems we face today. In the face of climate change and dwindling resources, the externalized costs of running a modern household are back on the (kitchen) table. The book is a compilation of essays by internationally renowned anthropologists, economists, artists, architects, historians, and cultural studies experts and also contains a wealth of historical documents and photographs.


Free Shipping

UPS GROUND IN THE CONTINENTAL U.S.
FOR CONSUMER ONLINE ORDERS

SPECTOR BOOKS

ISBN: 9783959057486
USD $20.00

| CAN $28

Pub Date: 3/5/2024
Forthcoming




SPECTOR BOOKS

ISBN: 9783959057479
USD $20.00

| CAN $28

Pub Date: 3/5/2024
Forthcoming




NAI010 PUBLISHERS

ISBN: 9789462087774
USD $40.00

| CAN $58

Pub Date: 10/3/2023
Active | In stock




RM/MUAC

ISBN: 9788419233417
USD $55.00

| CAN $79

Pub Date: 11/7/2023
Forthcoming




SET MARGINS' PUBLICATIONS

ISBN: 9789083318820
USD $20.00

| CAN $29

Pub Date: 9/5/2023
Active | In stock




SET MARGINS' PUBLICATIONS

ISBN: 9789083270616
USD $15.00

| CAN $21.5

Pub Date: 9/5/2023
Active | In stock




LARS MüLLER PUBLISHERS

ISBN: 9783037787328
USD $35.00

| CAN $50.5

Pub Date: 10/3/2023
Active | In stock




LARS MüLLER PUBLISHERS

ISBN: 9783037787335
USD $50.00

| CAN $72.5

Pub Date: 11/7/2023
Forthcoming




SET MARGINS' PUBLICATIONS

ISBN: 9789083318806
USD $27.00

| CAN $39

Pub Date: 11/7/2023
Forthcoming




SET MARGINS' PUBLICATIONS

ISBN: 9789083270609
USD $20.00

| CAN $29

Pub Date: 9/5/2023
Active | In stock




SET MARGINS' PUBLICATIONS

ISBN: 9789083318837
USD $16.95

| CAN $24.95

Pub Date: 9/5/2023
Active | In stock




SPECTOR BOOKS

ISBN: 9783959056977
USD $50.00

| CAN $72.5

Pub Date: 12/5/2023
Forthcoming