BOOK FORMAT
Paperback, 10 x 8.75 in. / 272 pgs / illustrated throughout.
PUBLISHING STATUS
Pub Date 1/9/2016
Active
DISTRIBUTION
D.A.P. Exclusive
Catalog: Publisher Backlist
PRODUCT DETAILS
ISBN 9783959050814 TRADE
List Price: $40.00 CDN $55.00
AVAILABILITY
Out of stock
TERRITORY
NA LA AFR ME
THE FALL 2023 ARTBOOK | D.A.P. CATALOG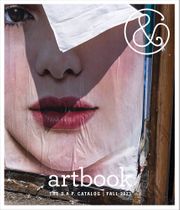 Preview our Fall 2023 catalog, featuring more than 500 new books on art, photography, design, architecture, film, music and visual culture.
&nbsp
&nbsp
Taking a Line for a Walk

Assignments in design education

Edited with text by Nina Paim, Emilia Bergmark, Corinne Gisel.


Assignments can give instructions, describe an exercise, present a problem, set out rules, propose a game, stimulate a process, or simply throw out questions. Taking a Line for a Walk brings attention to something that is often neglected: the assignment as a pedagogical element and verbal artefact of design education. This book is a compendium of 224 assignments, edited by Nina Paim and coedited by Emilia Bergmark. A reference book for educators, researchers, and students alike, it includes both contemporary and historical examples and offers a space for different lines of design pedagogy to converge and converse. An accompanying essay by Corinne Gisel takes a closer look at the various forms assignments can take and the educational contexts they exist within. Taking a Line for a Walk derived from an exhibition of the same name at the International Biennial of Graphic Design Brno 2014.


Spreads from 'Taking a Line for a Walk.'

STATUS: Out of stock

Temporarily out of stock pending additional inventory.

SPECTOR BOOKS

ISBN: 9783959057486
USD $20.00

| CAN $28

Pub Date: 3/5/2024
Forthcoming




SPECTOR BOOKS

ISBN: 9783959057479
USD $20.00

| CAN $28

Pub Date: 3/5/2024
Forthcoming




NAI010 PUBLISHERS

ISBN: 9789462087774
USD $40.00

| CAN $58

Pub Date: 10/3/2023
Active | In stock




RM/MUAC

ISBN: 9788419233417
USD $55.00

| CAN $79

Pub Date: 11/7/2023
Forthcoming




SET MARGINS' PUBLICATIONS

ISBN: 9789083318820
USD $20.00

| CAN $29

Pub Date: 9/5/2023
Active | In stock




SET MARGINS' PUBLICATIONS

ISBN: 9789083270616
USD $15.00

| CAN $21.5

Pub Date: 9/5/2023
Active | In stock




LARS MüLLER PUBLISHERS

ISBN: 9783037787328
USD $35.00

| CAN $50.5

Pub Date: 10/3/2023
Active | In stock




LARS MüLLER PUBLISHERS

ISBN: 9783037787335
USD $50.00

| CAN $72.5

Pub Date: 11/7/2023
Forthcoming




SET MARGINS' PUBLICATIONS

ISBN: 9789083318806
USD $27.00

| CAN $39

Pub Date: 11/7/2023
Forthcoming




SET MARGINS' PUBLICATIONS

ISBN: 9789083270609
USD $20.00

| CAN $29

Pub Date: 9/5/2023
Active | In stock




SET MARGINS' PUBLICATIONS

ISBN: 9789083318837
USD $16.95

| CAN $24.95

Pub Date: 9/5/2023
Active | In stock




SPECTOR BOOKS

ISBN: 9783959056977
USD $50.00

| CAN $72.5

Pub Date: 12/5/2023
Forthcoming