BOOK FORMAT
Paperback, 7 x 10 in. / 220 pgs / illustrated throughout.
PUBLISHING STATUS
Pub Date 3/1/2016
Active
DISTRIBUTION
D.A.P. Exclusive
Catalog: Publisher Backlist
PRODUCT DETAILS
ISBN 9783959050067 TRADE
List Price: $35.00 CDN $47.50
AVAILABILITY
In stock
THE FALL 2023 ARTBOOK | D.A.P. CATALOG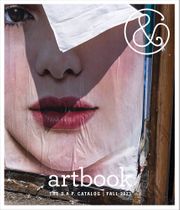 Preview our Fall 2023 catalog, featuring more than 500 new books on art, photography, design, architecture, film, music and visual culture.
&nbsp
&nbsp
Ape Culture

Edited by Hila Peleg. Text by Christophe Boesch, Cord Riechelmann.


Ape Culture traces the long cultural and scientific obsession with humanity's closest relatives. In the Western historical representations of modernity, depictions of apes were traditionally used to show the absence of culture. Standing as a liminal figure separating humans and animals, the ape has, since ancient times, played a central role in the narrative of civilisational progress. This book, which appears in conjunction with the exhibition of the same nameseeks, however, to go beyond the mere examination of apes as signifiers of difference. The juxtaposition of artworks with documents taken from popular culture and the history of primatology gives the reader an insight into what the science historian Donna Haraway has termed the primate order — a hall of mirrors reflecting the scientific and cultural projections that turned the ape from an instrument of humanity's self-definition into an integral element in testing out the possibility of reconstructing human nature. Ape Culture will be shown at the Haus der Kulturen der Welt from 30 April to 6 July 2015.


Free Shipping

UPS GROUND IN THE CONTINENTAL U.S.
FOR CONSUMER ONLINE ORDERS

SPECTOR BOOKS

ISBN: 9783959057288
USD $35.00

| CAN $50

Pub Date: 3/5/2024
Forthcoming




FONDAZIONE PRADA

ISBN: 9788887029857
USD $85.00

| CAN $125

Pub Date: 11/21/2023
Forthcoming




MOUSSE PUBLISHING

ISBN: 9788867495917
USD $29.95

| CAN $43.95

Pub Date: 12/5/2023
Forthcoming




MOUSSE PUBLISHING

ISBN: 9788867495771
USD $30.00

| CAN $44

Pub Date: 12/5/2023
Forthcoming




MARSILIO ARTE

ISBN: 9791254631331
USD $45.00

| CAN $65

UK &pound 36

Pub Date: 10/31/2023
Forthcoming




DELMONICO BOOKS/HAMMER MUSEUM

ISBN: 9781636810874
USD $50.00

| CAN $73

UK &pound 42

Pub Date: 10/31/2023
Forthcoming




HATJE CANTZ

ISBN: 9783775754446
USD $62.00

| CAN $88

Pub Date: 10/10/2023
Active | In stock




VERLAG FüR MODERNE KUNST

ISBN: 9783903439658
USD $20.00

| CAN $29

Pub Date: 11/21/2023
Forthcoming




MOUSSE PUBLISHING

ISBN: 9788867495542
USD $29.95

| CAN $42.95

Pub Date: 11/7/2023
Forthcoming




HOLZWARTH PUBLICATIONS

ISBN: 9783947127405
USD $50.00

| CAN $72.5

Pub Date: 9/5/2023
Active | Out of stock




HAYWARD GALLERY PUBLISHING

ISBN: 9781853323768
USD $40.00

| CAN $58

Pub Date: 9/26/2023
Active | In stock




HATJE CANTZ

ISBN: 9783775754675
USD $62.00

| CAN $89

Pub Date: 9/19/2023
Active | In stock