BOOK FORMAT
Various bindings, c. 1,000 vols, various dimensions and page counts.
PUBLISHING STATUS
Pub Date 3/30/2021
Active
DISTRIBUTION
D.A.P. Exclusive
Catalog: FALL 2020 p. 79
PRODUCT DETAILS
ISBN 9783958297692 SDNR30
List Price: $35,000.00 CDN $49,000.00
AVAILABILITY
Out of stock
THE FALL 2023 ARTBOOK | D.A.P. CATALOG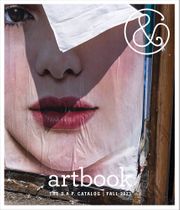 Preview our Fall 2023 catalog, featuring more than 500 new books on art, photography, design, architecture, film, music and visual culture.
&nbsp
&nbsp
Steidl Book Culture

2006–2020

Edited by Gerhard Steidl.


Comprising all of the sumptuous visual books published by Steidl over the last 15 years—around 1,000 titles in total—in an edition of 50 sets

This unprecedented collection includes many books otherwise out of print, and is a rare opportunity to possess a piece of recent bookmaking history. It features works by some of the most renowned practitioners of the medium, including Robert Adams, Lewis Baltz, Bruce Davidson, Robert Frank, Nan Goldin, Karl Lagerfeld, Dayanita Singh, Joel Sternfeld and Juergen Teller, and seminal visual artists such as Jim Dine, Roni Horn and Ed Ruscha.

Steidl Book Culture, 2006-2020 is a visual and tactile workshop in the craft of Steidl books: how design, typography, paper, and printing and binding methods are always individualized to realize the photographer's particular vision as a "multiple"—an enduring democratic art object at a reasonable price. Delivered with a certificate of authenticity signed by Gerhard Steidl, this compendium of only 50 sets is conceived as a site-specific installation within libraries, schools and universities, as well as for individuals to foster their personal book-collecting traditions. In Steidl's no-nonsense words: "This is how we make books. This is Steidl book culture."




STATUS: Out of stock

Temporarily out of stock pending additional inventory.

HATJE CANTZ

ISBN: 9783775754507
USD $269.00

| CAN $376

Pub Date: 8/8/2023
Forthcoming




DAMIANI

ISBN: 9788862087445
USD $650.00

| CAN $910

Pub Date: 5/25/2021
Active | In stock




HATJE CANTZ

ISBN: 9783775748582
USD $270.00

| CAN $375

Pub Date: 5/10/2022
Active | In stock




DAMIANI

ISBN: 9788862087421
USD $1,000.00

| CAN $1400

Pub Date: 6/15/2021
Active | Out of stock




JRP|EDITIONS/ZOLO PRESS

ISBN: 9783037645642
USD $150.00

| CAN $210

Pub Date: 9/5/2023
Forthcoming




STEIDL

ISBN: 9783958295445
USD $750.00

| CAN $1040

Pub Date: 8/31/2021
Active | In stock




DAMIANI

ISBN: 9788862087186
USD $500.00

| CAN $700

Pub Date: 10/13/2020
Active | In stock




STEIDL

ISBN: 9783958297692
USD $35,000.00

| CAN $49000

Pub Date: 3/30/2021
Active | Out of stock




DAMIANI

ISBN: 9788862086929
USD $450.00

| CAN $630

Pub Date: 4/7/2020
Active | In stock




HOLZWARTH PUBLICATIONS

ISBN: 9783947127146
USD $290.00

| CAN $385

Pub Date: 1/21/2020
Active | In stock




HENI PUBLISHING

ISBN: 9781912122257
USD $175.00

| CAN $240

Pub Date: 6/9/2020
Active | Out of stock




SKIRA

ISBN: 9788857234885
USD $100.00

| CAN $135

Pub Date: 4/23/2019
Active | In stock