BOOK FORMAT
Hardcover, 7 x 10.25 in. / 300 pgs / 100 bw.
PUBLISHING STATUS
Pub Date 10/1/2014
Active
DISTRIBUTION
D.A.P. Exclusive
Catalog: Publisher Backlist
PRODUCT DETAILS
ISBN 9783944669564 TRADE
List Price: $30.00 CDN $40.00
AVAILABILITY
In stock
TERRITORY
NA LA AFR ME
THE FALL 2023 ARTBOOK | D.A.P. CATALOG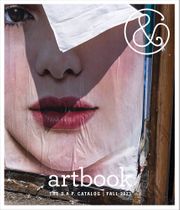 Preview our Fall 2023 catalog, featuring more than 500 new books on art, photography, design, architecture, film, music and visual culture.
&nbsp
&nbsp
Modern Monsters

Death And Life Of Fiction

Edited by Anselm Franke. Contributions by David Der-Wei Wang, Nabil Ahmed, Chen Chieh-Jen, Reza Negarestani, Jow Jiun Gong, Joachim Koester, James T. Hong, Jei Li, Bavand Behpoor, Sophie Wahnich, Ian Svenonius, Eric Baudelaire, Masao Matsuda, Mark Fisher, Alberto Toscano, Hu Fang, Chihiro Minato, Natasha Ginwala.


Departing from the figure of the Taowu, a Chinese mythological monster of evil inclination used recently by historians and writers to symbolize the violent fate of Chinese utopian modernity, this publication interrogates the role of systemic and structural violence in the making of modernity and its artistic representations, and uses the monster as a vantage point to capture global dimensions of the current crisis of social imaginaries.


Free Shipping

UPS GROUND IN THE CONTINENTAL U.S.
FOR CONSUMER ONLINE ORDERS

PRIMARY INFORMATION

ISBN: 9781737797975
USD $20.00

| CAN $28

Pub Date: 4/4/2023
Active | In stock




DABA

ISBN: 9781734681703
USD $24.00

| CAN $34

UK &pound 20

Pub Date: 2/23/2021
Active | In stock




LARS MüLLER PUBLISHERS

ISBN: 9783037786574
USD $30.00

| CAN $42

Pub Date: 9/29/2020
Active | In stock




KERBER

ISBN: 9783735607010
USD $45.00

| CAN $63

Pub Date: 4/13/2021
Active | In stock




KERBER

ISBN: 9783735607294
USD $49.95

| CAN $69.95

Pub Date: 4/13/2021
Active | In stock




VERLAG FüR MODERNE KUNST

ISBN: 9783903320475
USD $49.95

| CAN $69.95

Pub Date: 4/13/2021
Active | In stock




MOUSSE PUBLISHING

ISBN: 9788867494170
USD $25.00

| CAN $34.5

Pub Date: 4/20/2021
Active | In stock




EDITION PATRICK FREY

ISBN: 9783906803807
USD $40.00

| CAN $56

Pub Date: 5/11/2021
Active | In stock




STEIDL

ISBN: 9783958298675
USD $40.00

| CAN $56

Pub Date: 11/3/2020
Active | In stock




STEIDL

ISBN: 9783958298682
USD $40.00

| CAN $56

Pub Date: 6/1/2021
Active | In stock




MOUSSE PUBLISHING

ISBN: 9788867494248
USD $25.00

| CAN $34.5

Pub Date: 3/9/2021
Active | In stock




MOUSSE PUBLISHING

ISBN: 9788867494293
USD $25.00

| CAN $34.5

Pub Date: 3/30/2021
Active | Out of stock