BOOK FORMAT
Paperback, 5.25 x 8.25 in. / 236 pgs / illustrated throughout.
PUBLISHING STATUS
Pub Date 7/1/2015
Active
DISTRIBUTION
D.A.P. Exclusive
Catalog: Publisher Backlist
PRODUCT DETAILS
ISBN 9783940064318 TRADE
List Price: $9.00 CDN $13.50
AVAILABILITY
In stock
TERRITORY
NA LA AFR ME
THE FALL 2023 ARTBOOK | D.A.P. CATALOG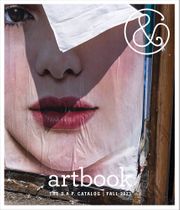 Preview our Fall 2023 catalog, featuring more than 500 new books on art, photography, design, architecture, film, music and visual culture.
&nbsp
&nbsp
First 3 Years Of Ludlow 38

Edited by Antonia Lotz, Stefan Kalmár, Daniel Pies, Rike Frank, Anders Kreuger, Astrid Wege, Axel J. Wieder.


Ludlow 38 is the downtown satellite for contemporary art of the Goethe-Institut New York. The space was opened on the Lower East Side in February 2008 and had been designed by artists Ethan Breckenridge and Liam Gillick. The gallery program was curated in collaboration with the Kunstverein München in the first, the European Kunsthalle Cologne in the second and the Künstlerhaus Stuttgart in the third year. After Stefan Kalmár the german curator Tobi Maier became the second father of Ludlow 38 in 2009 and the first curatorial resident of MINI/Goethe-Institut Curatorial Residencies Ludlow in 2011. The first 3 years of Ludlow 38 represents the program at Ludlow 38 with international artists like Friedl Kubelka, Ferdinand Kriwet, Michaela Melián and Andreas Neumeister, the last two also published by Spector Books.


Free Shipping

UPS GROUND IN THE CONTINENTAL U.S.
FOR CONSUMER ONLINE ORDERS

SPECTOR BOOKS

ISBN: 9783959057288
USD $35.00

| CAN $50

Pub Date: 3/5/2024
Forthcoming




FONDAZIONE PRADA

ISBN: 9788887029857
USD $85.00

| CAN $125

Pub Date: 11/21/2023
Forthcoming




MOUSSE PUBLISHING

ISBN: 9788867495917
USD $29.95

| CAN $43.95

Pub Date: 12/5/2023
Forthcoming




MOUSSE PUBLISHING

ISBN: 9788867495771
USD $30.00

| CAN $44

Pub Date: 12/5/2023
Forthcoming




MARSILIO ARTE

ISBN: 9791254631331
USD $45.00

| CAN $65

UK &pound 36

Pub Date: 12/12/2023
Forthcoming




DELMONICO BOOKS/HAMMER MUSEUM

ISBN: 9781636810874
USD $50.00

| CAN $73

UK &pound 42

Pub Date: 10/31/2023
Forthcoming




HATJE CANTZ

ISBN: 9783775754446
USD $62.00

| CAN $88

Pub Date: 10/10/2023
Active | In stock




VERLAG FüR MODERNE KUNST

ISBN: 9783903439658
USD $20.00

| CAN $29

Pub Date: 11/21/2023
Forthcoming




MOUSSE PUBLISHING

ISBN: 9788867495542
USD $29.95

| CAN $42.95

Pub Date: 11/7/2023
Forthcoming




HOLZWARTH PUBLICATIONS

ISBN: 9783947127405
USD $50.00

| CAN $72.5

Pub Date: 9/5/2023
Active | Out of stock




HAYWARD GALLERY PUBLISHING

ISBN: 9781853323768
USD $40.00

| CAN $58

Pub Date: 9/26/2023
Active | In stock




HATJE CANTZ

ISBN: 9783775754675
USD $62.00

| CAN $89

Pub Date: 9/19/2023
Active | In stock