BOOK FORMAT
Slip, hbk, 11.5 x 15.75 in. / 616 pgs / illustrated throughout.
PUBLISHING STATUS
Pub Date 5/21/2019
Active
DISTRIBUTION
D.A.P. Exclusive
Catalog: SPRING 2019 p. 128
PRODUCT DETAILS
ISBN 9783906915272 TRADE
List Price: $150.00 CDN $200.00
AVAILABILITY
In stock
TERRITORY
NA LA ASIA AU/NZ AFR ME
THE FALL 2023 ARTBOOK | D.A.P. CATALOG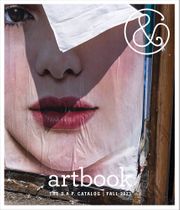 Preview our Fall 2023 catalog, featuring more than 500 new books on art, photography, design, architecture, film, music and visual culture.
&nbsp
&nbsp
Paul McCarthy: Caribbean Pirates

Text by John C. Welchman.


This abundantly illustrated two-volume publication presents the photographic documentation of Frigate and Houseboat, two pirate-themed works by Paul McCarthy and his son Damon McCarthy, alongside a new text by John C. Welchman analyzing the McCarthys' work. Taking the lawlessness of piracy as a departure point, these works explore the ways bodies, sex and violence all find themselves enmeshed in networks of cultural references that span from American consumerism to Disney and classical cinema. "DISNEY DOWN DOO THE HOLE DEATH AT THE BOTTOM OF THE HOLE begins begin begin began downward downward," McCarthy writes of this work; "hell is but a float liken a dead circus caucus past the restraint restaurant know one at the helm at the helm mate fantasy matting four abreast in a suburb boat begins with float float life is but a dream past your favorite sushi sexy house bar down you go know one knows ho ho…."




Featured image is reproduced from 'Paul McCarthy: Caribbean Pirates.'

Free Shipping

UPS GROUND IN THE CONTINENTAL U.S.
FOR CONSUMER ONLINE ORDERS

HAUSER & WIRTH PUBLISHERS

ISBN: 9783906915272
USD $150.00

| CAN $200

Pub Date: 5/21/2019
Active | In stock




EDICIONES POLíGRAFA

ISBN: 9788434313705
USD $115.00

| CAN $155

Pub Date: 5/22/2018
Active | Out of stock




MOUSSE PUBLISHING

ISBN: 9788867491438
USD $45.00

| CAN $60

Pub Date: 1/26/2016
Active | In stock




HATJE CANTZ

ISBN: 9783775740104
USD $60.00

| CAN $79

Pub Date: 11/24/2015
Active | In stock




JRP|RINGIER

ISBN: 9783037643365
USD $100.00

| CAN $132.5

Pub Date: 9/30/2013
Active | In stock




HATJE CANTZ

ISBN: 9783775736145
USD $60.00

| CAN $79

Pub Date: 4/30/2014
Active | Out of stock




WALTHER KöNIG, KöLN

ISBN: 9783863351939
USD $44.95

| CAN $60

Pub Date: 10/31/2012
Active | In stock