BOOK FORMAT
DVD, 5 x 7.5 in.
PUBLISHING STATUS
Pub Date 9/27/2016
Active
DISTRIBUTION
D.A.P. Exclusive
Catalog: SPRING 2017 p. 159
PRODUCT DETAILS
ISBN 9783863359157 FLAT40
List Price: $29.95 CDN $39.95
AVAILABILITY
In stock
THE FALL 2023 ARTBOOK | D.A.P. CATALOG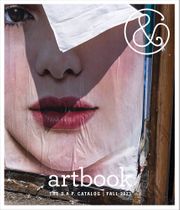 Preview our Fall 2023 catalog, featuring more than 500 new books on art, photography, design, architecture, film, music and visual culture.
&nbsp
&nbsp
Anthony Cragg: Parts of the World

A Film by Ralph Goertz




Ralph Goertz's 40-minute documentary (in German with English subtitles) accompanies British sculptor Tony Cragg (born 1949) in his studio, where he introduces his working processes, and at his major 2016 retrospective at the Von der Heydt-Museum Wuppertal in Germany.


Free Shipping

UPS GROUND IN THE CONTINENTAL U.S.
FOR CONSUMER ONLINE ORDERS

LISSON GALLERY

ISBN: 9780947830762
USD $36.00

| CAN $50.4

Pub Date: 10/6/2020
Active | Out of stock




WALTHER KöNIG, KöLN

ISBN: 9783960985815
USD $69.95

| CAN $92.5

Pub Date: 10/8/2019
Active | In stock




WALTHER KöNIG, KöLN

ISBN: 9783960981497
USD $69.95

| CAN $92.5

Pub Date: 11/20/2018
Active | Out of stock




WALTHER KöNIG, KöLN

ISBN: 9783960981480
USD $69.95

| CAN $92.5

Pub Date: 6/19/2018
Active | In stock




SILVANA EDITORIALE

ISBN: 9788836637997
USD $35.00

| CAN $47.5

Pub Date: 2/27/2018
Active | In stock




WALTHER KöNIG, KöLN

ISBN: 9783960981169
USD $59.95

| CAN $79

Pub Date: 9/26/2017
Active | In stock




WALTHER KöNIG, KöLN

ISBN: 9783863359157
USD $29.95

| CAN $39.95

Pub Date: 9/27/2016
Active | In stock




MODERNE KUNST NüRNBERG

ISBN: 9783869843780
USD $50.00

| CAN $67.5

Pub Date: 4/30/2013
Active | In stock




WALTHER KöNIG, KöLN

ISBN: 9782916275871
USD $39.95

| CAN $53.95

Pub Date: 9/30/2011
Active | Out of stock




WALTHER KöNIG, KöLN

ISBN: 9783863350437
USD $49.95

| CAN $67.5

Pub Date: 2/29/2012
Active | In stock