BOOK FORMAT
Paperback, 9.25 x 11.25 in. / 192 pgs / 150 color.
PUBLISHING STATUS
Pub Date 12/31/2014
Out of stock indefinitely
DISTRIBUTION
D.A.P. Exclusive
Catalog: SPRING 2015 p. 133
PRODUCT DETAILS
ISBN 9783863355609 TRADE
List Price: $39.95 CDN $53.95
AVAILABILITY
Not available
EXHIBITION SCHEDULE
Philadelphia, PA
Institute of Contemporary Art, University of Pennsylvania, 09/19/14-12/28/14
DOWNLOAD THE SPRING 2023 CATALOG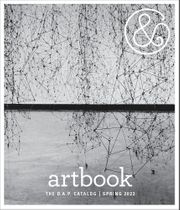 Preview our Spring 2023 catalog, featuring more than 500 new books on art, photography, design, architecture, film, music and visual culture.
&nbsp
&nbsp
Nicole Eisenman: Dear Nemesis

1993–2013

Edited by Samantha Topol. Foreword by Lisa Melandri. Text by Julia Bryan-Wilson, Terry Castle, Litia Perta, Kelly Shindler.


Depicting themes and settings as varied as bar scenes, motherhood and the plight of the artist, New York–based artist Nicole Eisenman (born 1965) fuses contemporary subject matter with art-historical influences ranging from Renaissance chiaroscuro to twentieth-century social realist painting. Her narrative depictions and renderings of women's bodies proclaim an ardently feminist world and imbue figurative art with an audaciously queer sensibility. This publication accompanies Eisenman's definitive midcareer survey at the Contemporary Art Museum St. Louis, which charts the development of the artist's practice from the early 1990s to the present across painting, printmaking, drawing and sculpture—bringing together more than 120 works of art, from early ink-on-paper drawings to recent explorations in printmaking and sculpture.


"Untitled" (2012) is reproduced from Nicole Eisenman: Dear Nemesis, 1993-2013.

STATUS: Out of stock indefinitely.

CORY REYNOLDS | DATE 11/23/2014

"Hard it is—even on this dignified retrospective occasion," Terry Castle writes in CAM St. Louis' dignified new Nicole Eisenman retrospective catalogue, "to blather on in the usual ponderous art-book fashion about the witty, perverse, and hugely generous art of Nicole Eisenman. Two decades into her swashbuckling career, Eisenman's antic worldview and scabrous comic candor continue to puncture critical pomposity, starting with one's own. Eisenman is a born debunker: an artist who combines exacting—at times stupendous—technical gifts that with a lampooning vision of life so uncensored, intelligent, and impervious to high seriousness she leaves pretentious would-be art-scribes at a loss. To borrow Gertrude Stein's amusing epithet for Ezra Pound, Eisenman can reduce even the most exasperating of Village Explainers to uncharacteristic silence." Untitled (2011-2012) is reproduced from Nicole Eisenman: Dear Nemesis. continue to blog

WALTHER KöNIG, KöLN

ISBN: 9783883759180
USD $62.00

| CAN $82.5

Pub Date: 1/15/2008
Active | In stock