BOOK FORMAT
Paperback, 5 x 7.5 in. / 192 pgs.
PUBLISHING STATUS
Pub Date 7/31/2011
Out of stock indefinitely
DISTRIBUTION
D.A.P. Exclusive
Catalog: SPRING 2011 p. 105
PRODUCT DETAILS
ISBN 9783775728157 TRADE
List Price: $25.00 CDN $34.50
AVAILABILITY
Not available
TERRITORY
NA LA
THE FALL 2023 ARTBOOK | D.A.P. CATALOG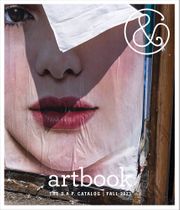 Preview our Fall 2023 catalog, featuring more than 500 new books on art, photography, design, architecture, film, music and visual culture.
&nbsp
&nbsp
Art for Sale

By Dirk Boll.


How is an English auction different from a Dutch auction? What distinguishes a vintage print from a period, modern or estate print? Dirk Boll, Managing Director of Christie's in Zurich, explains these and other technical terms, providing invaluable insights into the machinations of the art market: the increasingly symbiotic relationship between auction houses and art dealers, the strategies used by the big auction houses, recognizing and creating trends, the profiles of the various art fairs, promising new areas for collectors and the future development of the art market are just some of Art for Sale's fascinating themes. As a doctor of law, Boll is as competent at shedding light on the legal parameters regulating the acquisition of art, as he is in elucidating the difficulties surrounding looted art and restitution procedures. Art for Sale unpacks the art market in a knowledgeable, humorous style, and from a true insider's perspective.


STATUS: Out of stock indefinitely.

HATJE CANTZ

ISBN: 9783893222698
USD $14.95

| CAN $17.5

Pub Date: 8/2/1994
Out of print | Not available




CULTURESHOCK MEDIA

ISBN: 9780954699918
USD $30.00

| CAN $35

Pub Date: 4/1/2007
Out of print | Not available




MOUSSE PUBLISHING

ISBN: 9788867493425
USD $37.00

| CAN $55

Pub Date: 2/19/2019
Active | In stock




WALTHER KöNIG, KöLN

ISBN: 9783753303864
USD $35.00

| CAN $50

Pub Date: 1/9/2024
Forthcoming




ONOMATOPEE

ISBN: 9789493148949
USD $26.00

| CAN $38

Pub Date: 1/9/2024
Forthcoming




SPECTOR BOOKS

ISBN: 9783959056854
USD $30.00

| CAN $44

Pub Date: 3/5/2024
Forthcoming




ART ISSUES PRESS

ISBN: 9798987596500
USD $27.95

| CAN $39.95

UK &pound 22

Pub Date: 10/24/2023
Active | In stock




WALTHER KöNIG, KöLN

ISBN: 9783753300092
USD $35.00

| CAN $50.5

Pub Date: 10/3/2023
Active | In stock




VALIZ

ISBN: 9789493246249
USD $28.95

| CAN $41.95

Pub Date: 10/3/2023
Active | In stock




SPECTOR BOOKS

ISBN: 9783959056809
USD $35.00

| CAN $50.5

Pub Date: 10/3/2023
Active | In stock




SPECTOR BOOKS

ISBN: 9783959057080
USD $390.00

| CAN $565

Pub Date: 1/9/2024
Forthcoming




SET MARGINS' PUBLICATIONS

ISBN: 9789083270685
USD $20.00

| CAN $29

Pub Date: 9/5/2023
Active | In stock




PIONEER WORKS PRESS

ISBN: 9781945711190
USD $25.00

| CAN $36

UK &pound 22

Pub Date: 1/9/2024
Forthcoming




ONOMATOPEE PROJECTS

ISBN: 9789493148918
USD $42.00

| CAN $60

Pub Date: 1/9/2024
Forthcoming