BOOK FORMAT
Paperback, 8.25 x 11.75 in. / 312 pgs, 160 color.
PUBLISHING STATUS
Pub Date 1/23/2018
Active
DISTRIBUTION
D.A.P. Exclusive
Catalog: Publisher Backlist
PRODUCT DETAILS
ISBN 9783037785263 TRADE
List Price: $39.00 CDN $52.50
AVAILABILITY
In stock
TERRITORY
NA LA
THE FALL 2023 ARTBOOK | D.A.P. CATALOG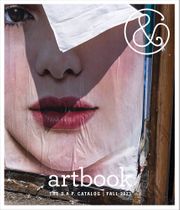 Preview our Fall 2023 catalog, featuring more than 500 new books on art, photography, design, architecture, film, music and visual culture.
&nbsp
&nbsp
Emilio Ambasz: Emerging Nature

Precursor of Architecture and Design

With contributions by Barry Bergdoll, Peter Buchanan, Kenneth Frampton, Peter Hall, Fulvio Irace, Dean MacCannell, Hans Ulrich Obrist, Lauren Sedofsky, Michael Sorkin and James Wines. Design by Integral Lars Müller.


Emerging Nature documents the work of the Argentinian architect, graphic designer and industrial designer Emilio Ambasz. The publication discusses his projects ranging from buildings and urban gardens including green facade vertical gardens to exhibition designs and everyday objects. The comprehensive volume features essays by various experts, interviews, a wealth of color photographs and drawings.

Ambasz's main concern is to integrate nature and construction into architectural design, which is why he is regarded as one of the most important pioneers of Green Architecture. In his work a combination of landscape and architecture emerges, in which his respect for the environment and ecological sustainability becomes clear. A prime example of this is the Fukuoka Prefectural International Hall in Japan: a building that houses more than 100,000 m2 of exhibition spaces, theaters and offices is also an open green area in the form of a hanging garden.

The immense scope and diversity of Emilio Ambasz' work is astounding. Besides architecture he has made a name for himself with the various objects he designs; they range from diesel engines and streetlights to portable TV players, fold-out watches and innovative office chairs. Emilio Ambasz followed his widespread interests and left traces in all the disciplines he crossed on his professional path.




Free Shipping

UPS GROUND IN THE CONTINENTAL U.S.
FOR CONSUMER ONLINE ORDERS

WALTHER KöNIG, KöLN

ISBN: 9783753302980
USD $55.00

| CAN $79

Pub Date: 11/14/2023
Forthcoming




MOUSSE PUBLISHING

ISBN: 9788867495863
USD $29.95

| CAN $43.95

Pub Date: 12/5/2023
Forthcoming




ARQUINE

ISBN: 9786078880195
USD $55.00

| CAN $79

UK &pound 47

Pub Date: 1/16/2024
Forthcoming




LARS MüLLER PUBLISHERS

ISBN: 9783037787229
USD $15.00

| CAN $21.5

Pub Date: 6/6/2023
Active | In stock




ARQUINE

ISBN: 9786078880096
USD $40.00

| CAN $58

UK &pound 35

Pub Date: 11/7/2023
Forthcoming




ARQUINE

ISBN: 9786078880102
USD $40.00

| CAN $58

UK &pound 35

Pub Date: 9/5/2023
Active | In stock




ARQUINE

ISBN: 9786078880065
USD $30.00

| CAN $43.5

UK &pound 26

Pub Date: 7/4/2023
Active | In stock




ARQUINE

ISBN: 9786078880164
USD $35.00

| CAN $50.5

UK &pound 30

Pub Date: 10/24/2023
Forthcoming




LA FáBRICA

ISBN: 9788418934759
USD $40.00

| CAN $58

UK &pound 35

Pub Date: 2/6/2024
Forthcoming




LARS MüLLER PUBLISHERS

ISBN: 9783037787311
USD $50.00

| CAN $72.5

Pub Date: 9/5/2023
Active | In stock




LARS MüLLER PUBLISHERS

ISBN: 9783037787373
USD $48.00

| CAN $69.6

Pub Date: 11/14/2023
Forthcoming




VERLAG FüR MODERNE KUNST

ISBN: 9783903439818
USD $35.00

| CAN $50.5

Pub Date: 11/21/2023
Forthcoming