BOOK FORMAT
Paperback, 6.5 x 9.5 in. / 320 pages, 361 illustrations.
PUBLISHING STATUS
Pub Date 1/25/2017
Active
DISTRIBUTION
D.A.P. Exclusive
Catalog: Publisher Backlist
PRODUCT DETAILS
ISBN 9783037785171 TRADE
List Price: $49.00 CDN $65.00
AVAILABILITY
In stock
TERRITORY
NA ONLY
THE FALL 2023 ARTBOOK | D.A.P. CATALOG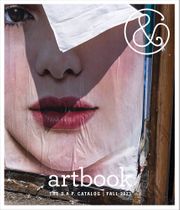 Preview our Fall 2023 catalog, featuring more than 500 new books on art, photography, design, architecture, film, music and visual culture.
&nbsp
&nbsp
David Adjaye: Constructed Narratives

Edited by Peter Allison.


Constructed Narratives brings together essays and several recently completed buildings by David Adjaye, in the United States and elsewhere. In the essays, Adjaye shows how his approach to the design of temporary pavilions and furniture, private houses, and installations at the 2015 Venice Biennale feeds into his designs for public buildings. Other essays discuss his engagement with geography, the urban environment, his approach to materiality, and architectural types. The presented projects include two public libraries and the National Museum of African American History and Culture, all in Washington D.C., a residential mixed-use building in New York, and a hybrid art-retail building in Beirut. Two of Adjaye's current projects are also included.




Featured image, of the landscaped waterfront space of the Aishti Foundation Beirut (2012-2015), is reproduced from 'David Adjaye: Constructed Narratives.'

Free Shipping

UPS GROUND IN THE CONTINENTAL U.S.
FOR CONSUMER ONLINE ORDERS

FROM THE BOOK

Excerpt from the chapter, "Geography and Architecture in Africa"

From the outside, Africa may look like a tabula rasa, the site of a long line of experiments that have little to do with each other, but closer acquaintance confirms that it is contested ground where the local conditions have been transformed by outside forces. This has echoes in the wider world, where the effects of globalization have undermined the identity of familiar places. In most of the situations I look at as an architect, many histories overlap, and I try to avoid the temptation to draw out one of them at the expense of the others. Rather than responding to physical traces, I prefer to extrapolate the emotive conditions suggested by earlier narratives. These may involve setting up a sense of denial, of opportunity, reflection, aloofness, or conviviality, any of which can contribute to the atmosphere of the building - the device that first communicates what a building has to offer.

My desire to understand the attributes of African cities by classifying them in groups does not entirely recognize the nature of some of their differences. Earlier in their history many of the capitals had strong international links, which have remained equally or more significant since independence. In the case of Accra in the 1950s and 1960s, for example, President Nkrumah began to restructure the city in response to its new status as the capital of a republic that would play a significant role within Africa and on the world stage. This double orientation, inward to the country and outward to the rest of the globe, can be seen in many capitals but is a feature of the African cities, which are often separated by great distances. The specific orientation of the African cities, and the strength of their external connections, can make a significant difference to the identities of cities in the same geographic terrain.

In the contemporary world, cities are widely understood in terms of their physical infrastructure, development patterns, and the character of their buildings. Upper Harlem, the National Mall in Washington, DC, and Beirut's waterfront are all places that are known and appreciated on this basis. In wishing to address the expectations of a diverse public, I am interested in moving away from a position where architecture is judged in terms of a single criterion of progress, to one in which several scenarios can be considered at the same time.
- David Adjaye

WALTHER KöNIG, KöLN

ISBN: 9783753302980
USD $55.00

| CAN $79

Pub Date: 11/14/2023
Forthcoming




MOUSSE PUBLISHING

ISBN: 9788867495863
USD $29.95

| CAN $43.95

Pub Date: 12/5/2023
Forthcoming




ARQUINE

ISBN: 9786078880195
USD $55.00

| CAN $79

UK &pound 47

Pub Date: 1/16/2024
Forthcoming




LARS MüLLER PUBLISHERS

ISBN: 9783037787229
USD $15.00

| CAN $21.5

Pub Date: 6/6/2023
Active | In stock




ARQUINE

ISBN: 9786078880096
USD $40.00

| CAN $58

UK &pound 35

Pub Date: 11/7/2023
Forthcoming




ARQUINE

ISBN: 9786078880102
USD $40.00

| CAN $58

UK &pound 35

Pub Date: 9/5/2023
Active | In stock




ARQUINE

ISBN: 9786078880065
USD $30.00

| CAN $43.5

UK &pound 26

Pub Date: 7/4/2023
Active | In stock




ARQUINE

ISBN: 9786078880164
USD $35.00

| CAN $50.5

UK &pound 30

Pub Date: 10/24/2023
Forthcoming




LA FáBRICA

ISBN: 9788418934759
USD $40.00

| CAN $58

UK &pound 35

Pub Date: 2/6/2024
Forthcoming




LARS MüLLER PUBLISHERS

ISBN: 9783037787311
USD $50.00

| CAN $72.5

Pub Date: 9/5/2023
Active | In stock




LARS MüLLER PUBLISHERS

ISBN: 9783037787373
USD $48.00

| CAN $69.6

Pub Date: 11/14/2023
Forthcoming




VERLAG FüR MODERNE KUNST

ISBN: 9783903439818
USD $35.00

| CAN $50.5

Pub Date: 11/21/2023
Forthcoming