BOOK FORMAT
Hardcover, 6.75 x 9 in. / 64 pgs / 30 images.
PUBLISHING STATUS
Pub Date 11/21/2016
Out of stock indefinitely
DISTRIBUTION
D.A.P. Exclusive
Catalog: Publisher Backlist
PRODUCT DETAILS
ISBN 9783037785133 TRADE
List Price: $25.00 CDN $34.50
AVAILABILITY
Not available
TERRITORY
NA ONLY
THE FALL 2023 ARTBOOK | D.A.P. CATALOG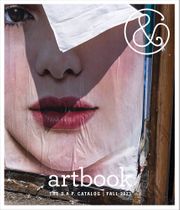 Preview our Fall 2023 catalog, featuring more than 500 new books on art, photography, design, architecture, film, music and visual culture.
&nbsp
&nbsp
Poemotion 3

By Takahiro Kurashima.


In this interactive book-object, abstract patterns are set in motion as soon as you move the attached special foil across them

For the long-awaited third installment of Takahiro Kurashima's series Poemotion , the artist goes back to the roots of the project. Thirty abstract graphic and geometric shapes are brought to life by a black plastic foil. Only when it is laid on the paper do the shapes begin to dance, jump, spin and weave, the reader experiencing the impressive moiré-effect in a playful way.




Takahiro Kurashima, born in 1970, studied graphic design at Musashino Art University.

STATUS: Out of stock indefinitely.

LARS MüLLER PUBLISHERS

ISBN: 9783037783511
USD $25.00

| CAN $34.5

Pub Date: 11/25/2013
Out of stock indefinitely | Not available




LARS MüLLER PUBLISHERS

ISBN: 9783037784075
USD $25.00

| CAN $34.5

Pub Date: 11/25/2013
Out of stock indefinitely | Not available




LARS MüLLER PUBLISHERS

ISBN: 9783037786574
USD $30.00

| CAN $42

Pub Date: 9/29/2020
Active | In stock




PRIMARY INFORMATION

ISBN: 9781737797975
USD $20.00

| CAN $28

Pub Date: 4/4/2023
Active | In stock




DABA

ISBN: 9781734681703
USD $24.00

| CAN $34

UK &pound 20

Pub Date: 2/23/2021
Active | In stock




LARS MüLLER PUBLISHERS

ISBN: 9783037786574
USD $30.00

| CAN $42

Pub Date: 9/29/2020
Active | In stock




KERBER

ISBN: 9783735607010
USD $45.00

| CAN $63

Pub Date: 4/13/2021
Active | In stock




KERBER

ISBN: 9783735607294
USD $49.95

| CAN $69.95

Pub Date: 4/13/2021
Active | In stock




VERLAG FüR MODERNE KUNST

ISBN: 9783903320475
USD $49.95

| CAN $69.95

Pub Date: 4/13/2021
Active | In stock




MOUSSE PUBLISHING

ISBN: 9788867494170
USD $25.00

| CAN $34.5

Pub Date: 4/20/2021
Active | In stock




EDITION PATRICK FREY

ISBN: 9783906803807
USD $40.00

| CAN $56

Pub Date: 5/11/2021
Active | In stock




STEIDL

ISBN: 9783958298675
USD $40.00

| CAN $56

Pub Date: 11/3/2020
Active | In stock




STEIDL

ISBN: 9783958298682
USD $40.00

| CAN $56

Pub Date: 6/1/2021
Active | In stock




MOUSSE PUBLISHING

ISBN: 9788867494248
USD $25.00

| CAN $34.5

Pub Date: 3/9/2021
Active | In stock




MOUSSE PUBLISHING

ISBN: 9788867494293
USD $25.00

| CAN $34.5

Pub Date: 3/30/2021
Active | Out of stock