BOOK FORMAT
Paperback, 6.5 x 9.5 in. / 576 pgs / 904 images.
PUBLISHING STATUS
Pub Date 1/25/2017
Out of stock indefinitely
DISTRIBUTION
D.A.P. Exclusive
Catalog: Publisher Backlist
PRODUCT DETAILS
ISBN 9783037785126 TRADE
List Price: $45.00 CDN $60.00
AVAILABILITY
Not available
TERRITORY
NA ONLY
THE FALL 2023 ARTBOOK | D.A.P. CATALOG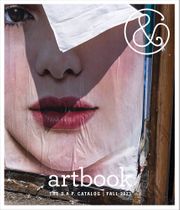 Preview our Fall 2023 catalog, featuring more than 500 new books on art, photography, design, architecture, film, music and visual culture.
&nbsp
&nbsp
Are We Human? The Design of the Species - 2 seconds, 2 days, 2 years, 200 years, 200,000 years

Edited by Beatriz Colomina.


This kaleidoscopic book documents the 3rd Istanbul Design Biennial curated by Beatriz Colomina and Mark Wigley in the words of the curators and all the participants, starting with the polemical Biennial Manifesto that launched the project. A remarkable galaxy of designers, architects, artists, historians, theorists, film makers, archaeologists, choreographers, scientists, labs, institutes, and NGOs challenge the self-image of our species. Are We Human? is an urgent question when design has gone viral, infusing every dimension of human and non-human life. Design now encrusts the whole Earth as a living geological layer going deep into the ground, into outer space, bodies, brains, and genes. This book dramatically rethinks design in the face of a planet and a species in unprecedented crisis rebooting the conversation on design.




Beatriz Colomina is an architecture theorist, curator and professor at the Princeton University School for Architecture. One of her research focuses is sexual fantasies in association with architecture.

STATUS: Out of stock indefinitely.

SPECTOR BOOKS

ISBN: 9783959057486
USD $20.00

| CAN $28

Pub Date: 3/5/2024
Forthcoming




SPECTOR BOOKS

ISBN: 9783959057479
USD $20.00

| CAN $28

Pub Date: 3/5/2024
Forthcoming




NAI010 PUBLISHERS

ISBN: 9789462087774
USD $40.00

| CAN $58

Pub Date: 10/3/2023
Active | In stock




RM/MUAC

ISBN: 9788419233417
USD $55.00

| CAN $79

Pub Date: 11/7/2023
Forthcoming




SET MARGINS' PUBLICATIONS

ISBN: 9789083318820
USD $20.00

| CAN $29

Pub Date: 9/5/2023
Active | In stock




SET MARGINS' PUBLICATIONS

ISBN: 9789083270616
USD $15.00

| CAN $21.5

Pub Date: 9/5/2023
Active | In stock




LARS MüLLER PUBLISHERS

ISBN: 9783037787328
USD $35.00

| CAN $50.5

Pub Date: 10/3/2023
Active | In stock




LARS MüLLER PUBLISHERS

ISBN: 9783037787335
USD $50.00

| CAN $72.5

Pub Date: 11/7/2023
Forthcoming




SET MARGINS' PUBLICATIONS

ISBN: 9789083318806
USD $27.00

| CAN $39

Pub Date: 11/7/2023
Forthcoming




SET MARGINS' PUBLICATIONS

ISBN: 9789083270609
USD $20.00

| CAN $29

Pub Date: 9/5/2023
Active | In stock




SET MARGINS' PUBLICATIONS

ISBN: 9789083318837
USD $16.95

| CAN $24.95

Pub Date: 9/5/2023
Active | In stock




SPECTOR BOOKS

ISBN: 9783959056977
USD $50.00

| CAN $72.5

Pub Date: 12/5/2023
Forthcoming