BOOK FORMAT
Paperback, 6 x 9.5 in. / 288 pgs / 122 images.
PUBLISHING STATUS
Pub Date 8/25/2016
Out of stock indefinitely
DISTRIBUTION
D.A.P. Exclusive
Catalog: Publisher Backlist
PRODUCT DETAILS
ISBN 9783037784938 TRADE
List Price: $39.00 CDN $52.50
AVAILABILITY
Not available
TERRITORY
NA ONLY
THE FALL 2023 ARTBOOK | D.A.P. CATALOG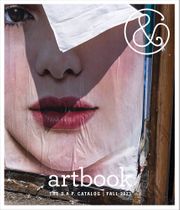 Preview our Fall 2023 catalog, featuring more than 500 new books on art, photography, design, architecture, film, music and visual culture.
&nbsp
&nbsp
Neo-prehistory

100 Verbs

Edited by Andrea Branzi.


Exist, orient, store, inebriate, measure, exchange, store, recite, write, think, navigate, love, share, rule, play, boil, adore, pierce, kill . . . The curators Andrea Branzi and Kenya Hara selected one hundred verbs, connected to one hundred objects, to let us travel across human history; words which relate to actions which relate to objects. Walking through the exhibition Neo-Prehistory at Triennale di Milano and reading this book means becoming lost in a space out of time, dark and multiplied by mirrors that make the exhibition apparently boundless. An infinite space where the hypnotic sequence of artifacts is emphasized by the primeval sound of a heartbeat slowing down and then accelerating rhythmically in a mesmeric cycle.




Andrea Branzi ( *1938 ) is an Italian architect and designer, and a professor at the Polytechnic University of Milan.

STATUS: Out of stock indefinitely.

SPECTOR BOOKS

ISBN: 9783959057486
USD $20.00

| CAN $28

Pub Date: 3/5/2024
Forthcoming




SPECTOR BOOKS

ISBN: 9783959057479
USD $20.00

| CAN $28

Pub Date: 3/5/2024
Forthcoming




NAI010 PUBLISHERS

ISBN: 9789462087774
USD $40.00

| CAN $58

Pub Date: 10/3/2023
Active | In stock




RM/MUAC

ISBN: 9788419233417
USD $55.00

| CAN $79

Pub Date: 11/7/2023
Forthcoming




SET MARGINS' PUBLICATIONS

ISBN: 9789083318820
USD $20.00

| CAN $29

Pub Date: 9/5/2023
Active | In stock




SET MARGINS' PUBLICATIONS

ISBN: 9789083270616
USD $15.00

| CAN $21.5

Pub Date: 9/5/2023
Active | In stock




LARS MüLLER PUBLISHERS

ISBN: 9783037787328
USD $35.00

| CAN $50.5

Pub Date: 10/3/2023
Active | In stock




LARS MüLLER PUBLISHERS

ISBN: 9783037787335
USD $50.00

| CAN $72.5

Pub Date: 11/7/2023
Forthcoming




SET MARGINS' PUBLICATIONS

ISBN: 9789083318806
USD $27.00

| CAN $39

Pub Date: 11/7/2023
Forthcoming




SET MARGINS' PUBLICATIONS

ISBN: 9789083270609
USD $20.00

| CAN $29

Pub Date: 9/5/2023
Active | In stock




SET MARGINS' PUBLICATIONS

ISBN: 9789083318837
USD $16.95

| CAN $24.95

Pub Date: 9/5/2023
Active | In stock




SPECTOR BOOKS

ISBN: 9783959056977
USD $50.00

| CAN $72.5

Pub Date: 12/5/2023
Forthcoming