BOOK FORMAT
Paperback, 5.75 x 8.25 in. / 128 pgs / 182 images.
PUBLISHING STATUS
Pub Date 2/27/2014
Out of stock indefinitely
DISTRIBUTION
D.A.P. Exclusive
Catalog: Publisher Backlist
PRODUCT DETAILS
ISBN 9783037784136 TRADE
List Price: $40.00 CDN $54.00
AVAILABILITY
Not available
TERRITORY
NA ONLY
THE FALL 2023 ARTBOOK | D.A.P. CATALOG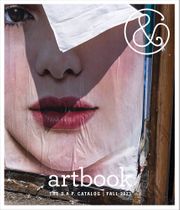 Preview our Fall 2023 catalog, featuring more than 500 new books on art, photography, design, architecture, film, music and visual culture.
&nbsp
&nbsp
A5/06: HfG Ulm

Concise History of the Ulm School of Design

Edited by Jens Müller.


The Ulm School of Design (HfG Ulm) ranks among the world's most important institutions of the 20th century in modernist design. Its founders Inge Aicher-Scholl, Otl Aicher and Max Bill wanted to contribute to the shaping of a new and better world after the terrible experiences of the Nazi regime and the Second World War. The meaning of design today cannot be understood without considering the developments at HfG. That applies not only to the design of appliances and communications, but also to the profession of designer, design education, methodology and design theory—ranging from the relationship between design and science up to the question of what relationship design should adopt with art and crafts, or business and society. This massive impact of the HfG is all the more astounding, considering that it existed for only 15 years, from 1953 to 1968. This book provides a contextual and broadly illustrated history of the HfG Ulm.




STATUS: Out of stock indefinitely.

SPECTOR BOOKS

ISBN: 9783959057486
USD $20.00

| CAN $28

Pub Date: 3/5/2024
Forthcoming




SPECTOR BOOKS

ISBN: 9783959057479
USD $20.00

| CAN $28

Pub Date: 3/5/2024
Forthcoming




NAI010 PUBLISHERS

ISBN: 9789462087774
USD $40.00

| CAN $58

Pub Date: 10/3/2023
Active | In stock




RM/MUAC

ISBN: 9788419233417
USD $55.00

| CAN $79

Pub Date: 11/7/2023
Forthcoming




SET MARGINS' PUBLICATIONS

ISBN: 9789083318820
USD $20.00

| CAN $29

Pub Date: 9/5/2023
Active | In stock




SET MARGINS' PUBLICATIONS

ISBN: 9789083270616
USD $15.00

| CAN $21.5

Pub Date: 9/5/2023
Active | In stock




LARS MüLLER PUBLISHERS

ISBN: 9783037787328
USD $35.00

| CAN $50.5

Pub Date: 10/3/2023
Active | In stock




LARS MüLLER PUBLISHERS

ISBN: 9783037787335
USD $50.00

| CAN $72.5

Pub Date: 11/7/2023
Forthcoming




SET MARGINS' PUBLICATIONS

ISBN: 9789083318806
USD $27.00

| CAN $39

Pub Date: 11/7/2023
Forthcoming




SET MARGINS' PUBLICATIONS

ISBN: 9789083270609
USD $20.00

| CAN $29

Pub Date: 9/5/2023
Active | In stock




SET MARGINS' PUBLICATIONS

ISBN: 9789083318837
USD $16.95

| CAN $24.95

Pub Date: 9/5/2023
Active | In stock




SPECTOR BOOKS

ISBN: 9783959056977
USD $50.00

| CAN $72.5

Pub Date: 12/5/2023
Forthcoming