BOOK FORMAT
Hardcover, 7.5 x 10.25 in. / 256 pgs.
PUBLISHING STATUS
Pub Date 2/10/2015
Active
DISTRIBUTION
D.A.P. Exclusive
Catalog: Publisher Backlist
PRODUCT DETAILS
ISBN 9783037783825 TRADE
List Price: $139.00 CDN $188.00
AVAILABILITY
Out of stock
TERRITORY
NA ONLY
THE FALL 2023 ARTBOOK | D.A.P. CATALOG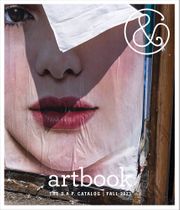 Preview our Fall 2023 catalog, featuring more than 500 new books on art, photography, design, architecture, film, music and visual culture.
&nbsp
&nbsp
Schwarz Black

By Katrin Trautwein.


Is there such a thing as "pure black"? In this book, Katrin Trautwein shows us how many shades of gray and different pigments can go into creating this special color, to which countless meanings are attached both in Western culture and other parts of the world. By means of high-grade screen prints, the publication makes the wide range of blacks tangible to the reader, belying the notion that black is the mere absence of light. On the contrary, the different black tones are uniquely suited to emphasizing nuances in lightness and darkness. These are the shades that create moods within architecture. A room can be designed without color, but not without light and shadow – without them, it would have no form. The fascinating palette of black tones is accompanied by an essay that illuminates the subject from different perspectives.




STATUS: Out of stock

Temporarily out of stock pending additional inventory.

PRIMARY INFORMATION

ISBN: 9781737797975
USD $20.00

| CAN $28

Pub Date: 4/4/2023
Active | In stock




DABA

ISBN: 9781734681703
USD $24.00

| CAN $34

UK &pound 20

Pub Date: 2/23/2021
Active | In stock




LARS MüLLER PUBLISHERS

ISBN: 9783037786574
USD $30.00

| CAN $42

Pub Date: 9/29/2020
Active | In stock




KERBER

ISBN: 9783735607010
USD $45.00

| CAN $63

Pub Date: 4/13/2021
Active | In stock




KERBER

ISBN: 9783735607294
USD $49.95

| CAN $69.95

Pub Date: 4/13/2021
Active | In stock




VERLAG FüR MODERNE KUNST

ISBN: 9783903320475
USD $49.95

| CAN $69.95

Pub Date: 4/13/2021
Active | In stock




MOUSSE PUBLISHING

ISBN: 9788867494170
USD $25.00

| CAN $34.5

Pub Date: 4/20/2021
Active | In stock




EDITION PATRICK FREY

ISBN: 9783906803807
USD $40.00

| CAN $56

Pub Date: 5/11/2021
Active | In stock




STEIDL

ISBN: 9783958298675
USD $40.00

| CAN $56

Pub Date: 11/3/2020
Active | In stock




STEIDL

ISBN: 9783958298682
USD $40.00

| CAN $56

Pub Date: 6/1/2021
Active | In stock




MOUSSE PUBLISHING

ISBN: 9788867494248
USD $25.00

| CAN $34.5

Pub Date: 3/9/2021
Active | In stock




MOUSSE PUBLISHING

ISBN: 9788867494293
USD $25.00

| CAN $34.5

Pub Date: 3/30/2021
Active | Out of stock