BOOK FORMAT
Paperback, 4.5 x 7 in. / 56 pgs.
PUBLISHING STATUS
Pub Date 11/21/2017
Active
DISTRIBUTION
D.A.P. Exclusive
Catalog: FALL 2017 p. 84
PRODUCT DETAILS
ISBN 9781939663306 TRADE
List Price: $11.95 CDN $17.50 GBP £9.99
AVAILABILITY
In stock
TERRITORY
WORLD
THE FALL 2023 ARTBOOK | D.A.P. CATALOG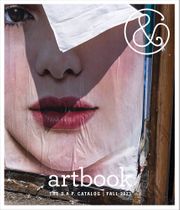 Preview our Fall 2023 catalog, featuring more than 500 new books on art, photography, design, architecture, film, music and visual culture.
An outcast's tour of city life'from construction site to metro, from bar to brothel

THE AUTHOR: a cult favorite among American transgressive novelists such as Dennis Cooper, and championed by Roland Barthes, Tony Duvert ( 1945-2008) was the enfant terrible of 60s-70s French literature. Through Barthes, he achieved public recognition in 1973 with his novel Strange Landscape. Semiotexte has recently reintroduced him into English. He was extremely controversial because of his advocacy of pedophilia. Could be compared to Michel Houllebecq or Dennis Cooper
THE BOOK 10 vignettes of the sad, sordid, and sinister aspects to a section of an unnamed French city. One of Duvert's last books, never before translated into English.
&nbsp
&nbsp
District

By Tony Duvert. Introduction by S.C. Delaney. Translation by S.C. Delaney, Agnès Potier.


District describes, in ten vignettes, the sad, sordid and sinister aspects of a section of an unnamed French city, and the manners in which the ghostlike human entities that live and wither within it are molded, moved and absorbed by its spaces.

A noisy metro station, old tenements, buildings going up, along with the fixtures of French communal life: the open-air market, the public garden; the little shops and bars, the lively town square—the ugly and mundane, the coarse and unmentionable sit side by side with the occasionally burgeoning bit of beauty. With a sense of voyeuristic tension and queasy complicity, the reader is taken on an outcast's tour of city life—from construction site to metro, from bar to brothel—an analysis of communal living in the conditional tense from the perspective of the absolute exile. One of Duvert's last books, it is also one of his shortest: an unexpected return to the roving, fractured eye of the Nouveau Roman that had informed his earliest work.




PRAISE AND REVIEWS

Full Stop

Aaron Winslow

Now, with the publication of Odd Jobs and District — both beautifully translated and introduced by S.C. Delaney and Agnes Potier — readers have access to a fuller range of Duvert's later oeuvre, quieter but no less provocative. These slim (approximately 40 pages each) volumes are put out by the venerable Wakefield Press, whose publication of translations of "overlooked gems and literary oddities" is nothing short of the Lord's work.

Free Shipping

UPS GROUND IN THE CONTINENTAL U.S.
FOR CONSUMER ONLINE ORDERS

MOUSSE PUBLISHING

ISBN: 9788867493395
USD $19.00

| CAN $29.95

Pub Date: 2/19/2019
Active | In stock




BLANK FORMS EDITIONS

ISBN: 9781953691149
USD $15.00

| CAN $22

Pub Date: 4/2/2024
Forthcoming




STEIDL

ISBN: 9783969993019
USD $50.00

| CAN $73

Pub Date: 2/6/2024
Forthcoming




FOUR CORNERS BOOKS

ISBN: 9781909829190
USD $37.00

| CAN $53

Pub Date: 7/18/2023
Active | In stock




WAKEFIELD PRESS

ISBN: 9781939663887
USD $19.95

| CAN $26.95

UK &pound 16.95

Pub Date: 11/22/2022
Active | In stock




WAKEFIELD PRESS

ISBN: 9781939663870
USD $16.95

| CAN $29.95

UK &pound 13.95

Pub Date: 11/22/2022
Active | In stock




SPECTOR BOOKS

ISBN: 9783959055215
USD $20.00

| CAN $28

Pub Date: 12/13/2022
Active | In stock




KAYA PRESS

ISBN: 9781885030832
USD $18.95

| CAN $25.95

UK &pound 15.95

Pub Date: 8/15/2023
Active | In stock




KARMA BOOKS, NEW YORK

ISBN: 9781949172720
USD $35.00

| CAN $49

UK &pound 25

Pub Date: 7/19/2022
Active | In stock




ERRANT BODIES PRESS

ISBN: 9783982316628
USD $24.00

| CAN $33.5

Pub Date: 7/4/2023
Active | Out of stock




BLANK FORMS EDITIONS

ISBN: 9781953691118
USD $20.00

| CAN $28

Pub Date: 11/15/2022
Active | In stock




AFTER 8 BOOKS

ISBN: 9782492650055
USD $16.00

| CAN $22

Pub Date: 7/26/2022
Active | In stock