PUBLISHER
BOOK FORMAT
PDF ONLY / 147 pgs.
PUBLISHING STATUS
Pub Date 9/30/2014
Unspecified
DISTRIBUTION
D.A.P. Exclusive
Catalog: ASON 00 N
PRODUCT DETAILS
ISBN 9781938922718 EB
List Price: $14.95 CDN $21.00
AVAILABILITY

THE FALL 2023 ARTBOOK | D.A.P. CATALOG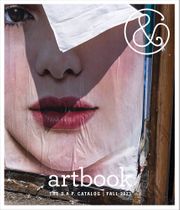 Preview our Fall 2023 catalog, featuring more than 500 new books on art, photography, design, architecture, film, music and visual culture.
&nbsp
&nbsp
The Teaching Manual to In the Making PDF

By Linda Weintraub.


When D.A.P. first published art historian, educator and curator Linda Weintraub's now-classic In the Making: Creative Options for Contemporary Art in 2003, a generation of studio art and art history teachers swiftly course adopted the book, prompting an immediate second and third print run. Currently in its fifth printing, In the Making remains an essential textbook and visual resource for hundreds of college, university and private art programs across America and throughout the world.
Weintraub's accessible and practical companion publication, The Teaching Manual to In the Making, is now available--as a pdf only--in an updated third edition, offering completely revised texts for both art history and studio art classes and an expanded selection of supporting art historical illustrations. The Teaching Manual extracts the principles manifested in the work of professional artists so that students can apply them to their own creative explorations. At just under 150 pages, it is more than double the length of the second edition of the Teaching Manual.


CORY REYNOLDS | DATE 9/29/2014

CORY REYNOLDS | DATE 2/11/2015

Join us February 12-14 in Booth 1707 at the 2015 College Art Association Annual Conference. Our booth features key course adoption titles, new and classic monographs, influential surveys and exhibition catalogs, and artists' writings. Throughout the fair, visitors to our booth can receive information about how to download a free copy of Linda Weintraub's Teaching Manual to In the Making PDF, the companion to one of our perennial best-selling course adoption titles. And on Friday, February 13 from 3-4PM Stanford University Professor of Art History Alexander Nemerov will sign copies of Silent Dialogues: Diane Arbus & Howard Nemerov, his probing, intimate reflection on photographer Diane Arbus (his aunt) and her brother, Pulitzer Prize-winning poet Howard Nemerov (her brother, his father).
continue to blog

OF RELATED INTEREST

D.A.P./DISTRIBUTED ART PUBLISHERS

ISBN: 9781891024597
USD $35.00

| CAN $47.5

Pub Date: 7/2/2003
Active | In stock




MOUSSE PUBLISHING

ISBN: 9788867493425
USD $37.00

| CAN $55

Pub Date: 2/19/2019
Active | In stock




WALTHER KöNIG, KöLN

ISBN: 9783753303864
USD $35.00

| CAN $50

Pub Date: 11/14/2023
Forthcoming




ONOMATOPEE

ISBN: 9789493148949
USD $26.00

| CAN $38

Pub Date: 10/31/2023
Forthcoming




SPECTOR BOOKS

ISBN: 9783959056854
USD $30.00

| CAN $44

Pub Date: 3/5/2024
Forthcoming




ART ISSUES PRESS

ISBN: 9798987596500
USD $27.95

| CAN $39.95

UK &pound 22

Pub Date: 10/24/2023
Forthcoming




WALTHER KöNIG, KöLN

ISBN: 9783753300092
USD $35.00

| CAN $50.5

Pub Date: 10/3/2023
Active | In stock




VALIZ

ISBN: 9789493246249
USD $28.95

| CAN $41.95

Pub Date: 10/3/2023
Active | In stock




SPECTOR BOOKS

ISBN: 9783959056809
USD $35.00

| CAN $50.5

Pub Date: 10/3/2023
Active | In stock




SPECTOR BOOKS

ISBN: 9783959057080
USD $390.00

| CAN $565

Pub Date: 12/5/2023
Forthcoming




SET MARGINS' PUBLICATIONS

ISBN: 9789083270685
USD $20.00

| CAN $29

Pub Date: 9/5/2023
Active | In stock




PIONEER WORKS PRESS

ISBN: 9781945711190
USD $25.00

| CAN $36

UK &pound 22

Pub Date: 11/7/2023
Forthcoming




ONOMATOPEE PROJECTS

ISBN: 9789493148918
USD $42.00

| CAN $60

Pub Date: 11/7/2023
Forthcoming