BOOK FORMAT
Cloth, 8.5 x 6.25 in. / 92 pgs / illustrated throughout.
PUBLISHING STATUS
Pub Date 1/3/2012
Active
DISTRIBUTION
D.A.P. Exclusive
Catalog: Publisher Backlist
PRODUCT DETAILS
ISBN 9781907533235 TRADE
List Price: $25.00 CDN $34.50
AVAILABILITY
In stock
TERRITORY
NA ONLY
THE FALL 2023 ARTBOOK | D.A.P. CATALOG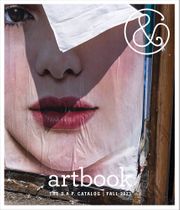 Preview our Fall 2023 catalog, featuring more than 500 new books on art, photography, design, architecture, film, music and visual culture.
&nbsp
&nbsp
David Hockney: A Yorkshire Sketchbook

By David Hockney.


A facsimile sketchbook from one of Britain's most celebrated artists

In recent years renowned artist David Hockney has returned to England to paint the landscape of his childhood in East Yorkshire. Although his passionate interest in new technologies has led him to develop a virtuosic drawing technique on the iPad, he has also traveled outdoors with a traditional sketchbook, an invaluable tool as he works quickly to capture the changing light and fleeting effects of the weather. Executed in watercolor and ink, these panoramic scenes have the spatial complexity of finished paintings--the broad sweep of sky or road, the patchwork tapestry of land--yet convey the immediacy of Hockney's impressions. For those who know the East Yorkshire Wolds, the location of the sketches is unmistakable; for those who don't, its features will come to life in these pages.


PRAISE AND REVIEWS

Country & Town House

A must for Hockney fans and Yorkshire locals, who will know and love the scenes in these pages.

Free Shipping

UPS GROUND IN THE CONTINENTAL U.S.
FOR CONSUMER ONLINE ORDERS

ROYAL ACADEMY OF ARTS

ISBN: 9781912520619
USD $27.95

| CAN $37.95

Pub Date: 9/6/2022
Active | In stock




ROYAL ACADEMY OF ARTS

ISBN: 9781912520237
USD $14.95

| CAN $19.95

Pub Date: 9/17/2019
Active | In stock




ROYAL ACADEMY OF ARTS

ISBN: 9781912520251
USD $17.95

| CAN $24.95

Pub Date: 10/22/2019
Active | In stock




ROYAL ACADEMY OF ARTS

ISBN: 9781912520374
USD $17.95

| CAN $24.95

Pub Date: 1/28/2020
Active | In stock




ROYAL ACADEMY OF ARTS

ISBN: 9781910350546
USD $14.95

| CAN $21

Pub Date: 1/24/2017
Active | In stock




ROYAL ACADEMY PUBLICATIONS

ISBN: 9781907533891
USD $27.95

| CAN $38.5

Pub Date: 2/24/2015
Active | Out of stock




ROYAL ACADEMY PUBLICATIONS

ISBN: 9781907533235
USD $25.00

| CAN $34.5

Pub Date: 1/3/2012
Active | In stock




NATIONAL PORTRAIT GALLERY

ISBN: 9781855145870
USD $29.95

| CAN $42.95

Pub Date: 12/26/2023
Forthcoming




ROYAL ACADEMY OF ARTS

ISBN: 9781912520640
USD $29.95

| CAN $41.95

Pub Date: 8/10/2021
Active | In stock




NATIONAL PORTRAIT GALLERY, LONDON

ISBN: 9781855147973
USD $45.00

| CAN $63

Pub Date: 4/28/2020
Active | In stock




ROYAL ACADEMY PUBLICATIONS

ISBN: 9781910350287
USD $45.00

| CAN $60

Pub Date: 8/23/2016
Active | In stock




ROYAL ACADEMY PUBLICATIONS

ISBN: 9781907533235
USD $25.00

| CAN $34.5

Pub Date: 1/3/2012
Active | In stock




ROYAL ACADEMY PUBLICATIONS

ISBN: 9781907533242
USD $25.00

| CAN $34.5

Pub Date: 3/1/2012
Active | In stock