BOOK FORMAT
Paperback, 5.25 x 8 in. / 188 pgs / 15 bw.
PUBLISHING STATUS
Pub Date 4/24/2018
Active
DISTRIBUTION
D.A.P. Exclusive
Catalog: FALL 2017 p. 85
PRODUCT DETAILS
ISBN 9781885030559 TRADE
List Price: $18.95 CDN $26.50 GBP £16.99
AVAILABILITY
In stock
TERRITORY
WORLD
THE FALL 2023 ARTBOOK | D.A.P. CATALOG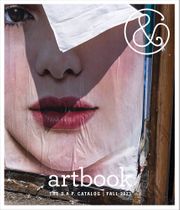 Preview our Fall 2023 catalog, featuring more than 500 new books on art, photography, design, architecture, film, music and visual culture.
21 years after Sesshu Foster's City Terrace Field Manual comes this new collection of poems which take on gentrification, modernization and globalization, as told from the same corner of Los Angles.

ABOUT THE AUTHOR: Sesshu Foster (b. 1957) was born and raised in East Los Angeles. He earned his MFA from the Iowa Writers' Workshop He's a working-class writer, writer of color, and writer for his community:Literary California, mixed with Beat, Asian American and Latino influences.
ABOUT THE BOOK: Poems that were written on postcards--political Chicano and Asian Am/East LA . This is his first collection of poetry since his award-winning World Ball Notebook (City Lights Books 2009).
PRESS & PROMO: Foster will have several events in and around Los Angeles and San Diego, and will also do events in New York City and Washington D.C. and will work with some special spaces like the NYU A/P/A Center and UCLA's Asian American Center to provide Foster with venues for multimedia presentations of his work.
&nbsp
&nbsp
City of the Future

By Sesshu Foster.


Twenty-one years after Kaya Press first published Sesshu Foster's City Terrace Field Manual, a powerful collection of prose poems that map the East Los Angeles neighborhood of Foster's childhood, comes a new collection of poetry and prose that takes on gentrification, modernization and globalization, as told from the same corner of this rapidly changing metropolis.

Winner the CLMP Firecracker Award for Poetry, 2019

These poems are, in the poet's words: "Postcards written with ocotillo and yucca. Gentrification of your face inside your sleep. Privatization of identity, corners, and intimations. Wars on the nerve, colors, breathing. Postcard poems of early and late notes, mucilage, American loneliness. Postcard poems of slopes, films of dust and crows. Incarceration nation 'Wish You Were Here' postcards 35 cents emerge from gentrified pants. You can't live like this. Postcards sent into the future. You can't live here now; you must live in the future, in the City of the Future."

Poet, teacher and community activist Sesshu Foster (born 1957) was born and raised in East Los Angeles. He earned his MFA from the Iowa Writers' Workshop and returned to LA to continue teaching, writing and community organizing. His third collection of poetry, World Ball Notebook (2009), won an American Book Award and an Asian American Literary Award for Poetry. Foster is the author of the speculative-fiction novel Atomik Aztex (2005), which won the Believer Book Award and imagines an America free of European colonizers.




PRAISE AND REVIEWS

Bomb

Ammiel Alcalay

City of the Future categorically refuses the cattle car hurtling away from the here and now.

Free Shipping

UPS GROUND IN THE CONTINENTAL U.S.
FOR CONSUMER ONLINE ORDERS

CORY REYNOLDS | DATE 4/27/2018

MOUSSE PUBLISHING

ISBN: 9788867493395
USD $19.00

| CAN $29.95

Pub Date: 2/19/2019
Active | In stock




BLANK FORMS EDITIONS

ISBN: 9781953691149
USD $15.00

| CAN $22

Pub Date: 4/2/2024
Forthcoming




STEIDL

ISBN: 9783969993019
USD $50.00

| CAN $73

Pub Date: 2/6/2024
Forthcoming




FOUR CORNERS BOOKS

ISBN: 9781909829190
USD $37.00

| CAN $53

Pub Date: 7/18/2023
Active | In stock




WAKEFIELD PRESS

ISBN: 9781939663887
USD $19.95

| CAN $26.95

UK &pound 16.95

Pub Date: 11/22/2022
Active | In stock




WAKEFIELD PRESS

ISBN: 9781939663870
USD $16.95

| CAN $29.95

UK &pound 13.95

Pub Date: 11/22/2022
Active | In stock




SPECTOR BOOKS

ISBN: 9783959055215
USD $20.00

| CAN $28

Pub Date: 12/13/2022
Active | In stock




KAYA PRESS

ISBN: 9781885030832
USD $18.95

| CAN $25.95

UK &pound 15.95

Pub Date: 8/15/2023
Active | In stock




KARMA BOOKS, NEW YORK

ISBN: 9781949172720
USD $35.00

| CAN $49

UK &pound 25

Pub Date: 7/19/2022
Active | In stock




ERRANT BODIES PRESS

ISBN: 9783982316628
USD $24.00

| CAN $33.5

Pub Date: 7/4/2023
Active | Out of stock




BLANK FORMS EDITIONS

ISBN: 9781953691118
USD $20.00

| CAN $28

Pub Date: 11/15/2022
Active | In stock




AFTER 8 BOOKS

ISBN: 9782492650055
USD $16.00

| CAN $22

Pub Date: 7/26/2022
Active | In stock