BOOK FORMAT
Paperback, 6 x 8.5 in. / 192 pgs / illustrated throughout.
PUBLISHING STATUS
Pub Date 1/26/2016
Active
DISTRIBUTION
D.A.P. Exclusive
Catalog: FALL 2015 p. 183
PRODUCT DETAILS
ISBN 9781853323317 FLAT40
List Price: $40.00 CDN $54.00
AVAILABILITY
In stock
EXHIBITION SCHEDULE
Leeds, England
Leeds Art Gallery, 02/09/15-01/10/16

Edinburgh, Scotland
Scottish National Gallery of Modern Art, Inverleith House, Royal Botanic Garden Edinburgh, Talbot Rice Gallery, University of Edinburgh, February-May 2016

Norwich, England
Norwich University of the Arts, Norwich Castle Museum and Art Gallery, Sainsbury Centre for Visual Arts, University of East Anglia, Norwich, Summer 2016
DOWNLOAD THE SPRING 2023 CATALOG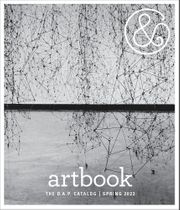 Preview our Spring 2023 catalog, featuring more than 500 new books on art, photography, design, architecture, film, music and visual culture.
&nbsp
&nbsp
British Art Show

Foreword by Roger Malbert. Text by Lydia Yee, Anna Colin.


British Art Show catalogue accompanies the major survey exhibition of contemporary British art of the same name that takes place every five years. Organized by the Hayward Touring team at Southbank Centre, the show opens in Leeds in Autumn 2015 and will tour to Edinburgh, Norwich and Southampton. British Art Show is the biggest touring exhibition of contemporary art in the UK; the last iteration, British Art Show 7 attracted over 420,000 visitors in 2010-11. The 39 selected artists have been chosen on the grounds of their significant contribution to contemporary art in the last five years. All artworks included have been produced since 2010 and encompass sculpture, painting, installation, drawing, photography, film, video and performance, with many artists creating new works especially for the exhibition. The curators of British Art Show 8 are Anna Colin and Lydia Yee. Artists include Ĺbäke, Lawrence Abu Hamdan, Caroline Achaintre, John Akomfrah and Trevor Mathison, Aaron Angell, Pablo Bronstein, Adam Broomberg and Oliver Chanarin, Andrea Büttner, Alexandre da Cunha, Nicolas Deshayes, Benedict Drew, Simon Fujiwara, Martino Gamper, Ryan Gander and others.


Free Shipping

UPS GROUND IN THE CONTINENTAL U.S.
FOR CONSUMER ONLINE ORDERS

HAYWARD GALLERY PUBLISHING

ISBN: 9781853323713
USD $30.00

| CAN $40

Pub Date: 11/2/2021
Active | In stock




HAYWARD GALLERY PUBLISHING

ISBN: 9781853323317
USD $40.00

| CAN $54

Pub Date: 1/26/2016
Active | In stock




HAYWARD GALLERY PUBLISHING

ISBN: 9781853322860
USD $35.00

| CAN $47.5

Pub Date: 2/28/2011
Out of stock indefinitely | Not available




DELMONICO BOOKS/LOS ANGELES COUNTY MUSEUM OF ART

ISBN: 9781636810164
USD $49.95

| CAN $69.95

UK &pound 43.99

Pub Date: 1/17/2023
Active | In stock




HATJE CANTZ

ISBN: 9783775753470
USD $45.00

| CAN $62

Pub Date: 10/25/2022
Active | In stock




KERBER

ISBN: 9783735608482
USD $40.00

| CAN $55

Pub Date: 5/23/2023
Forthcoming




HATJE CANTZ

ISBN: 9783775753654
USD $55.00

| CAN $76

Pub Date: 11/22/2022
Active | In stock




HATJE CANTZ

ISBN: 9783775753661
USD $32.00

| CAN $45

Pub Date: 11/22/2022
Active | In stock




HATJE CANTZ

ISBN: 9783775753852
USD $49.95

| CAN $69.95

Pub Date: 5/23/2023
Forthcoming




MOUSSE PUBLISHING

ISBN: 9788867494965
USD $35.00

| CAN $48

Pub Date: 1/24/2023
Active | In stock




MOUSSE PUBLISHING

ISBN: 9788867495450
USD $40.00

| CAN $55

Pub Date: 2/28/2023
Active | In stock




MOUSSE PUBLISHING

ISBN: 9788867494699
USD $20.00

| CAN $27

Pub Date: 1/24/2023
Active | In stock




VERLAG FüR MODERNE KUNST

ISBN: 9783903439450
USD $65.00

| CAN $91

Pub Date: 3/21/2023
Active | In stock




SKIRA

ISBN: 9788857248554
USD $40.00

| CAN $56

Pub Date: 4/25/2023
Forthcoming




ÉDITIONS DILECTA

ISBN: 9782373721508
USD $50.00

| CAN $70

Pub Date: 11/1/2022
Active | In stock