BOOK FORMAT
Hardcover, 6 x 9.5 in. / 224 pgs / illustrated throughout.
PUBLISHING STATUS
Pub Date 9/30/2013
Out of print
DISTRIBUTION
D.A.P. Exclusive
Catalog: FALL 2013 p. 113
PRODUCT DETAILS
ISBN 9781853323133 TRADE
List Price: $35.00 CDN $40.00
AVAILABILITY
Not available
TERRITORY
NA LA ME
EXHIBITION SCHEDULE
Margate
Turner Contemporary, 05/24/13-09/15/13

Norwich
Castle Museum and Art Gallery, 09/28/13-01/05/14

Dublin
Royal Hibernian Academy, 03/14-04/14

Amsterdam
De Appel Arts Centre, 06/14-08/14
THE FALL 2023 ARTBOOK | D.A.P. CATALOG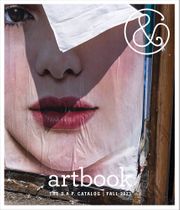 Preview our Fall 2023 catalog, featuring more than 500 new books on art, photography, design, architecture, film, music and visual culture.
&nbsp
&nbsp
Curiosity: Art and the Pleasures of Knowing

Foreword by Roger Malbert. Text by Brian Dillon, Marina Warner.


Curiosity explores the notion of intellectual and creative curiosity. Compiled in association with author and U.K. editor of Cabinet magazine Brian Dillon, this richly illustrated book explores objects, artworks and narratives drawn from a variety of disciplines--scientific, occult, anthropological and aesthetic--taking as its guide a sensibility that developed in Europe in the early modern period and tracing it at work in disparate historical and contemporary contexts. Contributors to the volume include Adam Broomberg and Oliver Chanarin, Agency, Aura Satz, Aurélien Froment, Charles Le Brun, Corinne May Botz, Gunda Förster, Jeremy Millar, Laurent Grasso, Leopold and Rudolph Blaschka, Matt Mullican, Nicolaes Maes, Nina Katchadourian, Pablo Bronstein, Philip Henry Gosse, Robert Hooke, Roger Caillois, Tacita Dean, Thomas Grünfeld and Toril Johannessen.


Featured image, Philip Henry Gosse's "Illustration for Actinologia Britannia" (c.1858–1860), is reproduced from Curiosity: Art and the Pleasures of Knowing.

FROM THE BOOK

"It is the 'thirst of the soul,' says Samuel Johnson, seeming to express its necessity; but its effects are merely negative or privative ones—curiosity 'rather frees us from uneasiness, then confers pleasure.'" -Brian Dillon

SPECTOR BOOKS

ISBN: 9783959057288
USD $35.00

| CAN $50

Pub Date: 3/5/2024
Forthcoming




FONDAZIONE PRADA

ISBN: 9788887029857
USD $85.00

| CAN $125

Pub Date: 11/21/2023
Forthcoming




MOUSSE PUBLISHING

ISBN: 9788867495917
USD $29.95

| CAN $43.95

Pub Date: 12/5/2023
Forthcoming




MOUSSE PUBLISHING

ISBN: 9788867495771
USD $30.00

| CAN $44

Pub Date: 12/5/2023
Forthcoming




MARSILIO ARTE

ISBN: 9791254631331
USD $45.00

| CAN $65

UK &pound 36

Pub Date: 12/12/2023
Forthcoming




DELMONICO BOOKS/HAMMER MUSEUM

ISBN: 9781636810874
USD $50.00

| CAN $73

UK &pound 42

Pub Date: 10/31/2023
Forthcoming




HATJE CANTZ

ISBN: 9783775754446
USD $62.00

| CAN $88

Pub Date: 10/10/2023
Active | In stock




VERLAG FüR MODERNE KUNST

ISBN: 9783903439658
USD $20.00

| CAN $29

Pub Date: 11/21/2023
Forthcoming




MOUSSE PUBLISHING

ISBN: 9788867495542
USD $29.95

| CAN $42.95

Pub Date: 11/7/2023
Forthcoming




HOLZWARTH PUBLICATIONS

ISBN: 9783947127405
USD $50.00

| CAN $72.5

Pub Date: 9/5/2023
Active | Out of stock




HAYWARD GALLERY PUBLISHING

ISBN: 9781853323768
USD $40.00

| CAN $58

Pub Date: 9/26/2023
Active | In stock




HATJE CANTZ

ISBN: 9783775754675
USD $62.00

| CAN $89

Pub Date: 9/19/2023
Active | In stock