BOOK FORMAT
Hardcover, 10.5 x 9 in. / 336 pgs / 450 color.
PUBLISHING STATUS
Pub Date 11/21/2017
Active
DISTRIBUTION
D.A.P. Exclusive
Catalog: FALL 2017 p. 5
PRODUCT DETAILS
ISBN 9781633450486 TRADE
List Price: $75.00 CDN $99.00
AVAILABILITY
In stock
EXHIBITION SCHEDULE
New York
The Museum of Modern Art, 11/19/17–05/28/18
THE FALL 2023 ARTBOOK | D.A.P. CATALOG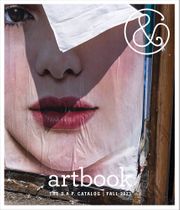 Preview our Fall 2023 catalog, featuring more than 500 new books on art, photography, design, architecture, film, music and visual culture.
One Man MoMA show for the American color photographer Stephen Shore


Big Show - Big Press
Stephen Shore (b. 1947) is one of the pioneers of 1970's color photography
Best-known series are epic 70s road trips shot in brilliant color and published in his books American Surfaces and Uncommon Places (30,000+ copies sold)
His books are considered 'bibles for the new color photographers'
Shore is the director of the photography department at Bard College, Annandale on Hudson NY
This is a major book and includes over 400 illustrations.
&nbsp
&nbsp
Stephen Shore

Edited with text by Quentin Bajac. Text by David Campany, Kristen Gaylord, Martino Stierli.


Organized into 60 thematic sections, this magisterial volume provides a complete overview of Shore's career—from the early portraits of Warhol's Factory to his latest Instagram images

One of the most influential photographers of our time, Stephen Shore has often been categorized as one of a group of artists of the 1970s who captured American popular culture in straightforward, unglamorous color images. While this is true, it is only part of the story: Shore has worked with many forms of photography, switching from cheap automatic cameras to large format in the 1970s, pioneering the use of color film before returning to black and white in the 1990s, and, in the 2000s, taking up the opportunities offered by digital photography, digital printing and social media.

Published to accompany the first comprehensive survey of Stephen Shore's work in the US, this catalog reflects the full range of his contribution, including the gelatin silver prints he made as a teenager (and sold to The Museum of Modern Art); his photographs of the scene at Andy Warhol's Factory, in New York; the color images he made during cross-country road trips in the 1970s; his recent explorations of Israel, the West Bank and Ukraine; and his current work on digital platforms, including Instagram.

This book offers a fresh, kaleidoscopic vision of the artist's extensive career, presenting more than 400 reproductions arranged in a thematic framework, each grouping accompanied by a short but wide-ranging essay. This unique encyclopedia-style format makes visible the artist's versatility of technique and the diversity of his output, reflecting his singular vision and uncompromising pursuit of photography's possibilities.

Stephen Shore (born 1947) was the first living photographer to have a solo show at the Metropolitan Museum of Art in New York since Alfred Stieglitz (40 years earlier). He has also had solo shows at The Museum of Modern Art, New York; George Eastman House, Rochester; Kunsthalle, Dusseldorf; Hammer Museum, Los Angeles; Jeu de Paume, Paris; and the Art Institute of Chicago. Since 1982 he has been the director of the Photography Program at Bard College, New York, where he is the Susan Weber Professor in the Arts.




Quentin Bajac is former Chief Curator of Photography at the Museum of Modern Art, New York.

David Campany is an artist, writer and Reader in Photography at the University of Westminster, London.

Kristen Gaylord is Assistant Curator of Photographs at the Amon Carter Museum, Texas.

Martino Stierli is the Philip Johnson Curator of Architecture and Design at the Museum of Modern Art, New York and the Swiss National Science Foundation Professor at the University of Zurich's Institute of Art History.

Featured image is reproduced from 'Stephen Shore."

PRAISE AND REVIEWS

The New York Times, T Magazine

Annie Proulx

Shore has single-handedly created a visual vocabulary that defines the iconography of America — beautiful, haunting images that evoke more than just a time and a place, but lives lived, desires lost and dreams unfulfilled.

WNYC

Deborah Soloman

In an age when iPhones have turned most everyone into a wandering photographer of medium-to-low talent, Shore offers a model of straight photography at its most lucid and ravishing.

Boston Globe

Mark Feeney

It's hard to think of a living photographer who's had a more varied and interesting career than Shore has — or a career that got off to such an early start.

PDN

Conor Risch

...the most complete picture yet of the career of one of America's most important living artists.

Blouin Artinfo

... a comprehensive survey of the five-decade long career of American photographer Stephen Shore, deemed as one of the most significant names in the world of contemporary photography.

The New York Times

Jason Farago

Not staged, not lit, not cropped, not retouched, his photographs are feats of dispassionate representation, and yet their attentiveness and exactitude make them far, far more than snapshots.

Lonely Planet

James Gabriel Martin

...the most comprehensive collection of work by iconic photographer Stephen Shore ever organised.

The New Yorker

Peter Schjeldahl

[Shore's] best pictures at once arouse feelings and leave us alone to make what we will of them. He delivers truths, whether hard or easy, with something very much like mercy.

The New York Times

Teju Cole

Until Stephen Shore began making his color photos of breakfasts, beds, intersections, parking lots and just about everything else that drifted into his visual field, no one else annotated the banal surfaces of American life with quite the same level of unjudgmental aplomb.

4 Columns

Lynn Tillman

Retrospectives can be strange events for artists. Some don't want one, fearing it might prematurely close the book on their work. At seventy, Stephen Shore is adding pages to his.

Free Shipping

UPS GROUND IN THE CONTINENTAL U.S.
FOR CONSUMER ONLINE ORDERS

EAKINS PRESS FOUNDATION

ISBN: 9780871300805
USD $65.00

| CAN $90

UK &pound 57

Pub Date: 11/19/2019
Active | In stock




THE MUSEUM OF MODERN ART, NEW YORK

ISBN: 9781633450486
USD $75.00

| CAN $99

Pub Date: 11/21/2017
Active | In stock




KOENIG BOOKS

ISBN: 9783863356910
USD $30.00

| CAN $40

Pub Date: 7/28/2015
Active | In stock