BOOK FORMAT
Paperback, 6 x 8.5 in. / 185 pgs.
PUBLISHING STATUS
Pub Date 1/1/2019
Active
DISTRIBUTION
D.A.P. Exclusive
Catalog: Publisher Backlist
PRODUCT DETAILS
ISBN 9780997444629 TRADE
List Price: $23.95 CDN $31.95
AVAILABILITY
Out of stock
TERRITORY
NA LA ASIA AU/NZ AFR ME
THE FALL 2023 ARTBOOK | D.A.P. CATALOG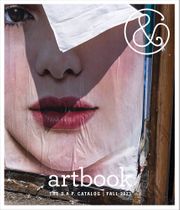 Preview our Fall 2023 catalog, featuring more than 500 new books on art, photography, design, architecture, film, music and visual culture.
&nbsp
&nbsp
Mucus in My Pineal Gland

By Juliana Huxtable.


"Full of specific stories of trans life, growing up black, and youthful understandings of the limitations and malleability of gender roles." –Steven Zultanski, 4Columns

Mucus in My Pineal Gland is the debut collection of New York–based artist and writer Juliana Huxtable (born 1987). Gathering poems, performance scripts and essays, this startling volume expands Huxtable's critique of gender, sexuality, politics, whiteness and history while establishing her as a singular poetic voice.




STATUS: Out of stock

Temporarily out of stock pending additional inventory.

SET MARGINS' PUBLICATIONS

ISBN: 9789083318882
USD $22.00

| CAN $31

Pub Date: 11/7/2023
Forthcoming




KARMA BOOKS, NEW YORK

ISBN: 9781949172973
USD $25.00

| CAN $37

UK &pound 21

Pub Date: 10/31/2023
Forthcoming




SOBERSCOVE PRESS/WINTER EDITIONS

ISBN: 9781940190327
USD $24.00

| CAN $34.5

UK &pound 22

Pub Date: 11/14/2023
Forthcoming




DARK ENTRIES EDITIONS

ISBN: 9798985170412
USD $20.00

| CAN $29

UK &pound 18

Pub Date: 10/3/2023
Active | In stock




DABA

ISBN: 9781734681796
USD $35.00

| CAN $50.5

UK &pound 30

Pub Date: 10/17/2023
Forthcoming




WAKEFIELD PRESS

ISBN: 9781939663863
USD $19.95

| CAN $26.95

UK &pound 16.95

Pub Date: 12/6/2022
Active | In stock




MAMCO GENEVA

ISBN: 9781636810423
USD $29.95

| CAN $39.95

UK &pound 23.99

Pub Date: 5/3/2022
Active | In stock




DABA

ISBN: 9781734681772
USD $20.00

| CAN $27

UK &pound 18

Pub Date: 4/12/2022
Active | In stock




KAYA PRESS

ISBN: 9781885030801
USD $18.95

| CAN $25.95

UK &pound 14.99

Pub Date: 10/25/2022
Active | In stock




WAKEFIELD PRESS

ISBN: 9781939663801
USD $22.95

| CAN $30.95

UK &pound 18.99

Pub Date: 7/26/2022
Active | In stock




AFTER 8 BOOKS

ISBN: 9782492650000
USD $24.95

| CAN $31

Pub Date: 3/22/2022
Active | In stock




KAYA PRESS

ISBN: 9781885030757
USD $18.95

| CAN $25.95

UK &pound 14.99

Pub Date: 11/9/2021
Active | In stock