BOOK FORMAT
Hardcover, 8 x 11 in. / 144 pgs.
PUBLISHING STATUS
Pub Date 6/25/2019
Active
DISTRIBUTION
D.A.P. Exclusive
Catalog: FALL 2019
PRODUCT DETAILS
ISBN 9780985660277 FLAT40
List Price: $35.00 CDN $39.95 GBP £34.00
AVAILABILITY
Out of stock
TERRITORY
WORLD
EXHIBITION SCHEDULE
Sante Fe, NM
SITE Santa Fe, 08/03/18–01/06/19
THE FALL 2023 ARTBOOK | D.A.P. CATALOG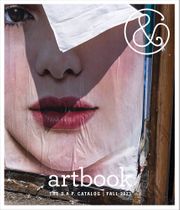 Preview our Fall 2023 catalog, featuring more than 500 new books on art, photography, design, architecture, film, music and visual culture.
&nbsp
&nbsp
Casa Tomada

Introduction by Irene Hofmann. Text by Jose Luis Blondet, Candice Hopkins, Ruba Katrib. Contributions by Magali Arriola, Naomi Beckwith, Evan Calder Williams.


This SITElines.2018 Biennial catalog, Casa tomada (House Taken Over), features 23 artists from eight countries and ten new commissions and is organized by a team of three curators: Jose Luis Blondet, Candice Hopkins and Ruba Katrib, with Naomi Beckwith as Curatorial Advisor. SITElines.2018: New Perspectives on Art from the Americas is the third installment in SITE Santa Fe's reimagined biennial series with a focus on contemporary art of the Americas. 




STATUS: Out of stock

Temporarily out of stock pending additional inventory.

SPECTOR BOOKS

ISBN: 9783959057288
USD $35.00

| CAN $50

Pub Date: 3/5/2024
Forthcoming




FONDAZIONE PRADA

ISBN: 9788887029857
USD $85.00

| CAN $125

Pub Date: 11/21/2023
Forthcoming




MOUSSE PUBLISHING

ISBN: 9788867495917
USD $29.95

| CAN $43.95

Pub Date: 12/5/2023
Forthcoming




MOUSSE PUBLISHING

ISBN: 9788867495771
USD $30.00

| CAN $44

Pub Date: 12/5/2023
Forthcoming




MARSILIO ARTE

ISBN: 9791254631331
USD $45.00

| CAN $65

UK &pound 36

Pub Date: 10/31/2023
Forthcoming




DELMONICO BOOKS/HAMMER MUSEUM

ISBN: 9781636810874
USD $50.00

| CAN $73

UK &pound 42

Pub Date: 10/31/2023
Forthcoming




HATJE CANTZ

ISBN: 9783775754446
USD $62.00

| CAN $88

Pub Date: 10/10/2023
Active | In stock




VERLAG FüR MODERNE KUNST

ISBN: 9783903439658
USD $20.00

| CAN $29

Pub Date: 11/21/2023
Forthcoming




MOUSSE PUBLISHING

ISBN: 9788867495542
USD $29.95

| CAN $42.95

Pub Date: 11/7/2023
Forthcoming




HOLZWARTH PUBLICATIONS

ISBN: 9783947127405
USD $50.00

| CAN $72.5

Pub Date: 9/5/2023
Active | Out of stock




HAYWARD GALLERY PUBLISHING

ISBN: 9781853323768
USD $40.00

| CAN $58

Pub Date: 9/26/2023
Active | In stock




HATJE CANTZ

ISBN: 9783775754675
USD $62.00

| CAN $89

Pub Date: 9/19/2023
Active | In stock