BOOK FORMAT
Clth, 9 x 12 in. / 409 pgs / 200 color.
PUBLISHING STATUS
Pub Date 1/31/2013
Active
DISTRIBUTION
D.A.P. Exclusive
Catalog: FALL 2012 p. 124
PRODUCT DETAILS
ISBN 9780937108499 TRADE
List Price: $60.00 CDN $79.00 GBP £53.00
AVAILABILITY
Out of stock
EXHIBITION SCHEDULE
San Diego, CA
Museum of Contemporary Art San Diego, The San Diego Museum of Art, Timken Museum of Art, Fall 2012
THE FALL 2023 ARTBOOK | D.A.P. CATALOG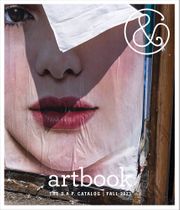 Preview our Fall 2023 catalog, featuring more than 500 new books on art, photography, design, architecture, film, music and visual culture.
&nbsp
&nbsp
Behold, America!

Art of the United States from Three San Diego Museums




Behold, America! is an ambitious collaboration between three prominent San Diego art museums. Bringing together the best works from the American art collections of the Museum of Contemporary Art San Diego, The San Diego Museum of Art and the Timken Museum of Art, this publication and its accompanying exhibition takes a dynamic look at three centuries of visual art created in the United States. Behold, America! (a title borrowed from Walt Whitman's Leaves of Grass) conveys how artists have addressed colonialism, environmentalism and racial inequality over the years, and evokes the natural landscape of the United States, imperialism and some of the more infamous aspects of American culture. Whether emerging from colonialism or civil war, visual artists working in the U.S. have contributed to a national identity that continues to be renegotiated to this day.


Featured image, of Josef Albers' "Homage to the Square: On Dry Ground" (1963), is reproduced from Behold, America!.

STATUS: Out of stock

Temporarily out of stock pending additional inventory.

SPECTOR BOOKS

ISBN: 9783959057288
USD $35.00

| CAN $50

Pub Date: 3/5/2024
Forthcoming




FONDAZIONE PRADA

ISBN: 9788887029857
USD $85.00

| CAN $125

Pub Date: 11/21/2023
Forthcoming




MOUSSE PUBLISHING

ISBN: 9788867495917
USD $29.95

| CAN $43.95

Pub Date: 12/5/2023
Forthcoming




MOUSSE PUBLISHING

ISBN: 9788867495771
USD $30.00

| CAN $44

Pub Date: 12/5/2023
Forthcoming




MARSILIO ARTE

ISBN: 9791254631331
USD $45.00

| CAN $65

UK &pound 36

Pub Date: 10/31/2023
Forthcoming




DELMONICO BOOKS/HAMMER MUSEUM

ISBN: 9781636810874
USD $50.00

| CAN $73

UK &pound 42

Pub Date: 10/31/2023
Forthcoming




HATJE CANTZ

ISBN: 9783775754446
USD $62.00

| CAN $88

Pub Date: 10/10/2023
Active | In stock




VERLAG FüR MODERNE KUNST

ISBN: 9783903439658
USD $20.00

| CAN $29

Pub Date: 11/21/2023
Forthcoming




MOUSSE PUBLISHING

ISBN: 9788867495542
USD $29.95

| CAN $42.95

Pub Date: 11/7/2023
Forthcoming




HOLZWARTH PUBLICATIONS

ISBN: 9783947127405
USD $50.00

| CAN $72.5

Pub Date: 9/5/2023
Active | Out of stock




HAYWARD GALLERY PUBLISHING

ISBN: 9781853323768
USD $40.00

| CAN $58

Pub Date: 9/26/2023
Active | In stock




HATJE CANTZ

ISBN: 9783775754675
USD $62.00

| CAN $89

Pub Date: 9/19/2023
Active | In stock